Get to Know Joachim Savelsberg!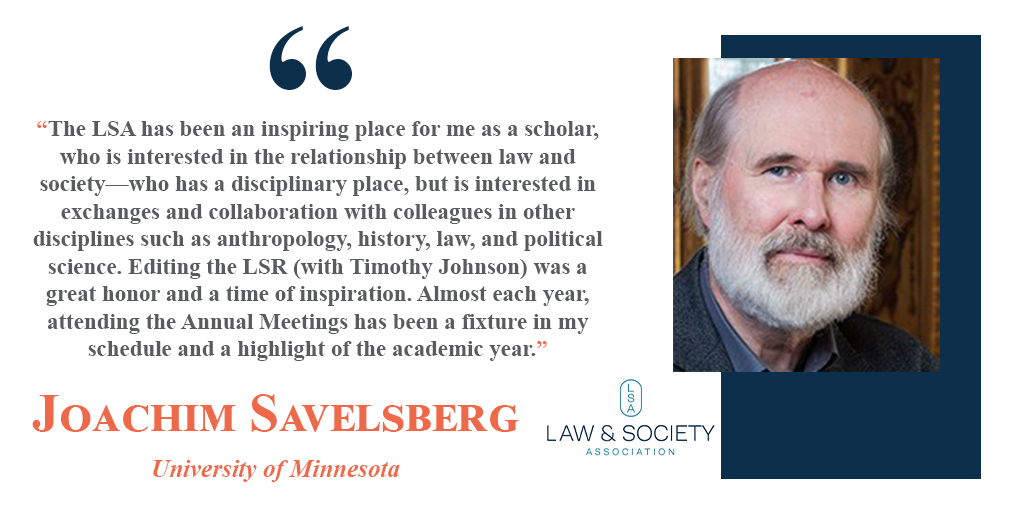 Institution: University of Minnesota | College of Liberal Arts
Number of years as LSA member: 30
Number of LSA Meetings Attended: 20
LSA Governance Position(s) and Committees:
Law & Society Review Editor (with Timothy Johnson – 2014)
Former member of the Executive Committee (2014-16)
Former Board of Trustee member (2014-16)
Has served on numerous other LSA committees
Areas of Research:
Law and Collective Memory/Representations
Responses to Mass Violence
Sentencing (guidelines)
Criminal Punishment
Favorite Topics to Teach or Research:
Role of law and politics in managing difficult pasts

Institutional conditions of punishment

International comparison and transnational processes
Unique Fact:
"I have been living between continents for some time. Born, raised and with an academic socialization in Europe, specifically Germany, I moved to the United States only at age 38. Moving back and forth across the Atlantic sensitized me to institutional particularities of different countries, especially particularities of law and politics, and their consequences. Further, born in 1951, barely six years after the end of WWII and the Shoah, I learned about silencing of past atrocities, the breaking of silences, and later, about the role of law in these processes."
Notable Awards:
Lee Founders Award, Society for the Study of Social Problems (2019)
Lifetime Achievement Award (bi-annual), Crime and Delinquency Division, SSSP (2019)
Albert J. Reiss, Jr. Distinguished Scholar Award, Section for Crime, Law and Deviance, American Sociological Association (ASA) (2017)
William J. Chambliss Lifetime Achievement Award, Law & Society Division, SSSP (2017)
Arsham and Charlotte Ohanessian Chair, College of Liberal Arts, University of Minnesota (2014-2023)
Freda Adler International Distinguished Scholar Award, International Division, ASC (2012)
Elected Fellow, American Society of Criminology (2008)
See Professor Savelsberg's bio to learn more about the awards he has won.
Top Books and Publications:
Knowing about Genocide: Armenian Suffering and Epistemic Struggles (University of California Press, 2021)
Representing Mass Violence: Conflicting Responses to Human Rights Violations in Darfur (University of California Press, 2015)
American Memories: Atrocities and the Law, with Ryan D. King (Russell Sage Foundation – American Sociological Association Rose Monograph Series, 2011)
View more of Professor Savelsberg's publications here https://cla.umn.edu/about/directory/profile/savel001#publications.
Learn more about Professor Savelsberg, his many publications, media appearances, awards, and involvement with academic organizations by viewing his bio, here.