The Law and Society Association honors 22 scholars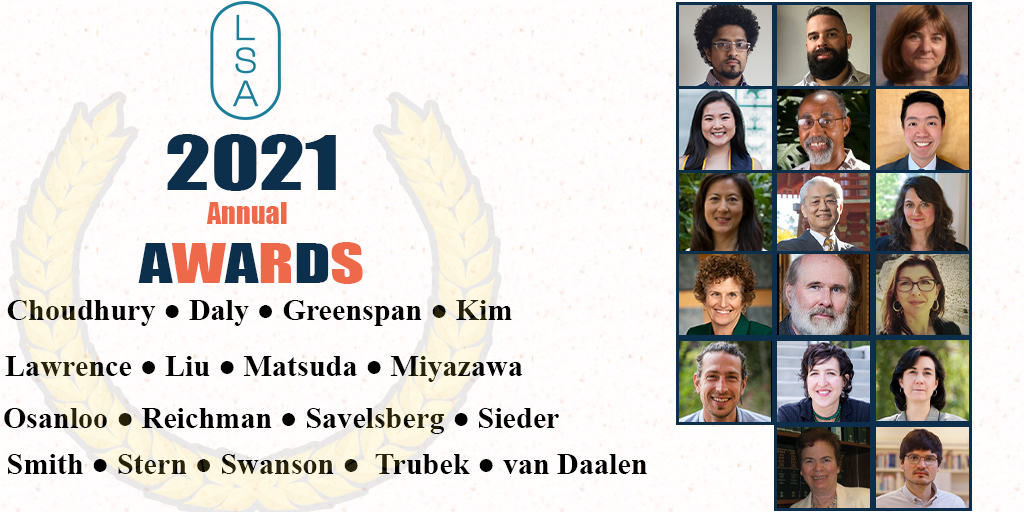 AMHERST, Mass. – The Law and Society Association in coordination with the Executive Office, Prize Committees and President Penelope Andrews, honors the winners of its 2021 Annual Awards, as 22 law and society scholars took home prizes this May. Each year, the LSA recognizes outstanding scholarly publications and contributions to the law and society community. The association currently offers 12 prizes for scholarship, awarded at the Annual Meeting, which will take place at the association's second and largest Virtual conference, due to the ongoing pandemic.
The award ceremony will be held online on Saturday, May 29, at 11 a.m. CT. Annual Meeting registration is required to attend the ceremony live. A recording of the ceremony will be available on-demand afterwards. To view more information about each of the winners on our brand-new website, check out our Awards Page here.
"These awards reflect some of the best law and society scholarship each year, and I'm thrilled to see the diverse range of disciplines represented across our membership," said LSA Executive Officer Steven Boutcher.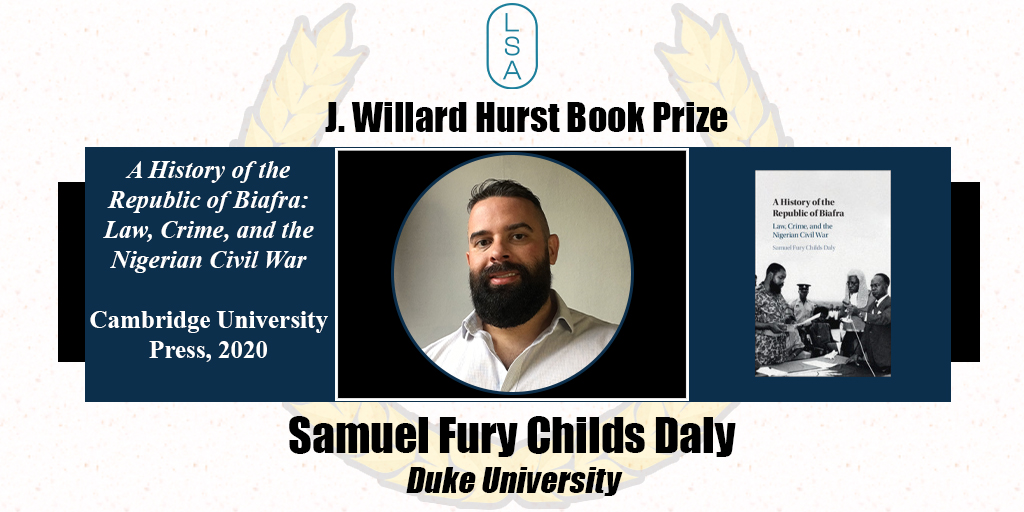 Samuel Fury Childs Daly of Duke University took home the J. Willard Hurst Book Prize for the best sociolegal history book. His book, A History of the Republic of Biafra: Law, Crime, and the Nigerian Civil War (Cambridge University Press, 2020), examines the history of the Nigerian Civil War and its aftermath from an uncommon vantage point—the courtroom. Based on research using an original archive of legal records and oral histories, the book describes how people navigated conditions of extreme hardship on the war front and shows how the conditions of the Nigerian Civil War paved the way for the long involvement of crime that followed.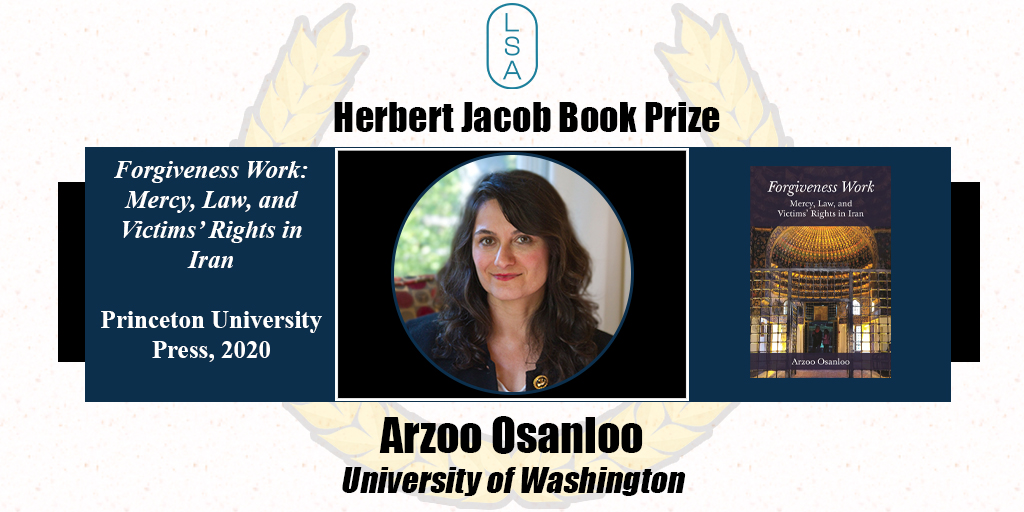 The Herbert Jacob Book Prize for new, outstanding work in law and society scholarship went to Arzoo Osanloo of the University of Washington. Her book, Forgiveness Work: Mercy, Law, and Victims' Rights in Iran (Princeton University Press, 2020) is the first to consider the social reality of the Islamic mandate of mercy and, at the same time, it explores a criminal justice system that prioritizes victims' rights. The book contributes to sociolegal debates in Islamic law, criminal law and restorative justice. It offers reflections on anti-death penalty studies and human rights, as well as mercy and humanitarianism.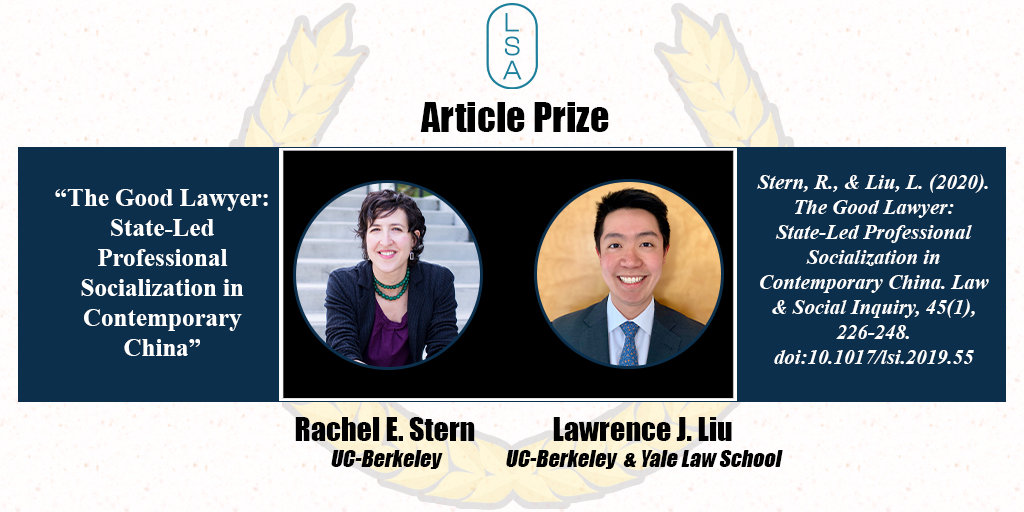 The LSA Article Prize was awarded to University of California-Berkeley Professor Rachel E. Stern and Lawrence J. Liu (JD/PhD student at UC-Berkeley and Yale Law School) for their article, "The Good Lawyer: State-Led Professional Socialization in Contemporary China," which appeared in Law & Social Inquiry in February, 2020. The article explores three channels of communication used by the Chinese state to signal professional expectations to the bar: the bar exam, the administrative rules governing lawyers and the state-sanctioned National Outstanding Lawyer Award. Although the article focuses on China, the reader can imagine how it might inspire work on how lawyers are socialized to participate in politics elsewhere.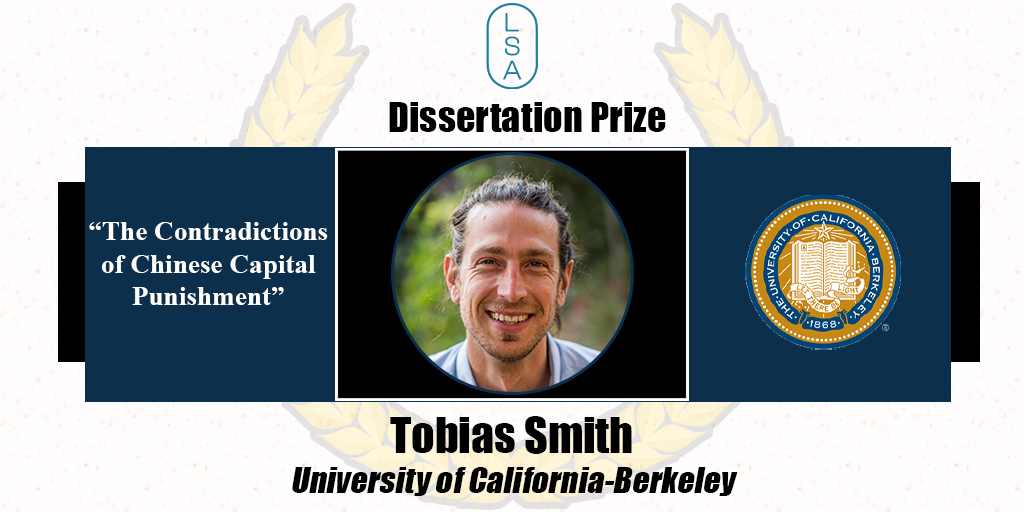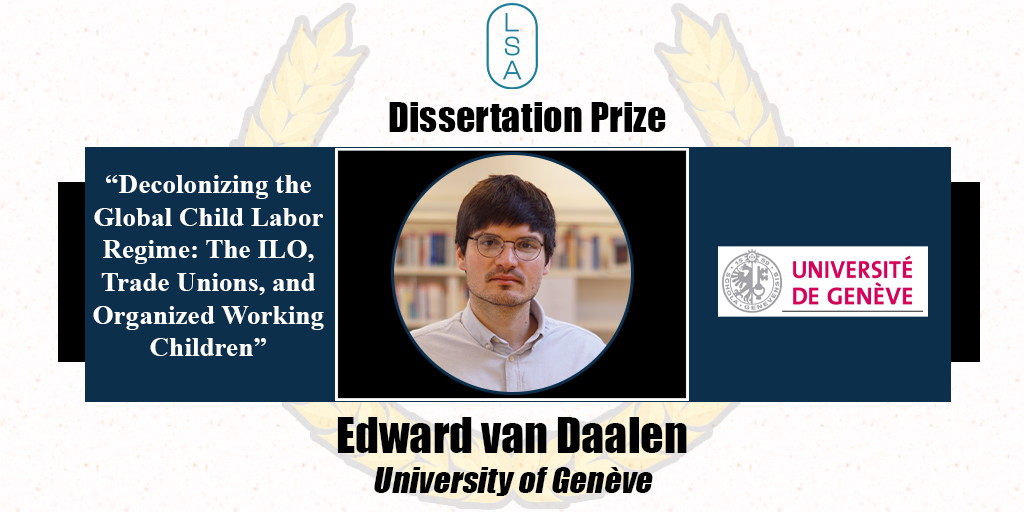 This year's Dissertation Prize went to Tobias Smith (University of California-Berkeley) and Edward van Daalen (University of Genève). Smith's dissertation, "The Contradictions of Chinese Capital Punishment," explores a common law and society argument: what drives the development of death penalty law and its application? He interviews dozens of judges, prosecutors, defense attorneys and other experts across four Chinese provinces in an incredibly political-sensitive field of law.
Van Daalen engages in field work across four continents and in multiple languages in his dissertation titled, "Decolonizing the Global Child Labor Regime: The ILO, Trade Unions, and Organized Working Children." His research examines the development of the child labor regime over the course of around 150 years, complicating our understanding of child labor restrictions as based in fundamental human rights.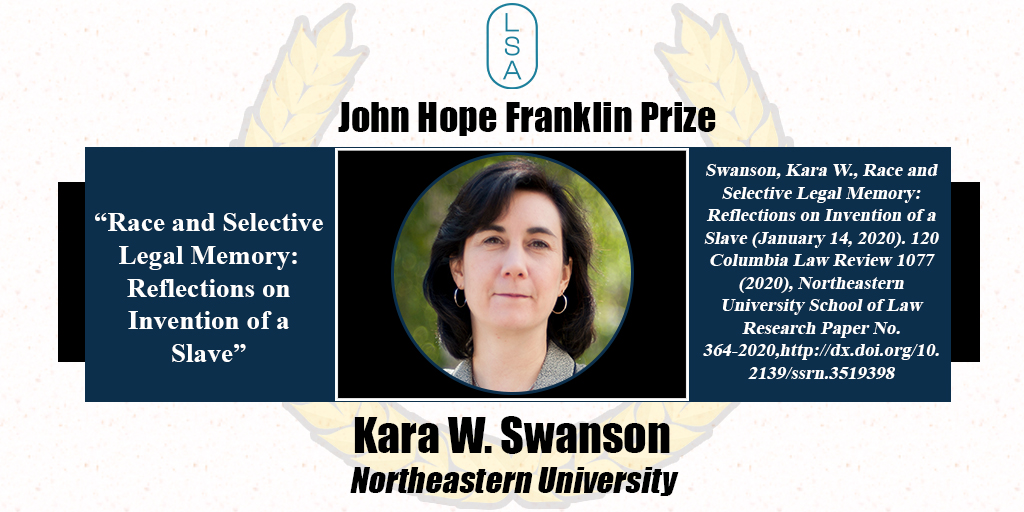 Earning the John Hope Franklin Prize, which was established in 2010 to recognize exceptional scholarship in the field of Race, Racism and the Law, was Kara W. Swanson (Northeastern University). Swanson's article, "Race and Selective Legal Memory: Reflections on Invention of a Slave," repositions the 1858 opinion of the United States Attorney General's "Invention of a Slave," declaring inventions by African Americans—enslaved and free—unpatentable. The abolition of the law of slavery rendered the opinion obsolete, and it became forgotten and dropped from legal memory. However, Swanson calls for readers to remember the legal story and argues that law's selective memory has carried a cost.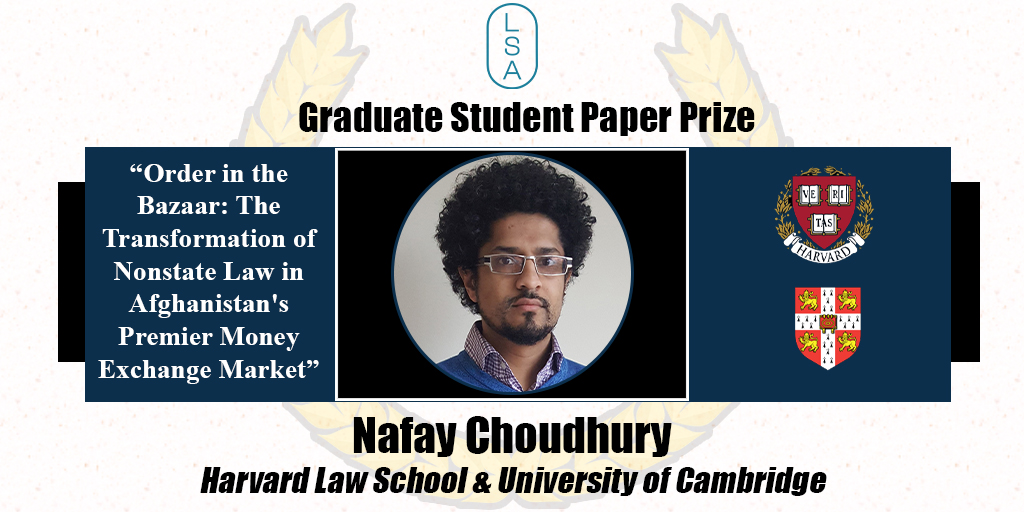 As for the student prizes, Nafay Choudhury (Harvard Law School & University of Cambridge) won the award for the best Graduate Student Paper, while Raika Kim (University of California-Berkeley) took home the Undergraduate Student Paper honor.
Choudhury's paper "Order in the Bazaar: The Transformation of Nonstate Law in Afghanistan's Premier Money Exchange Market" is a study of money currency exchangers in Kabul, Afghanistan, based on a year of ethnographic fieldwork. Drawing upon his personal experience teaching law in Afghanistan for five years, this paper demonstrates that even in Afghanistan under circumstances of uncertainty and insecurity, remarkable legal transformation can be found at the interface of state and nonstate legal systems.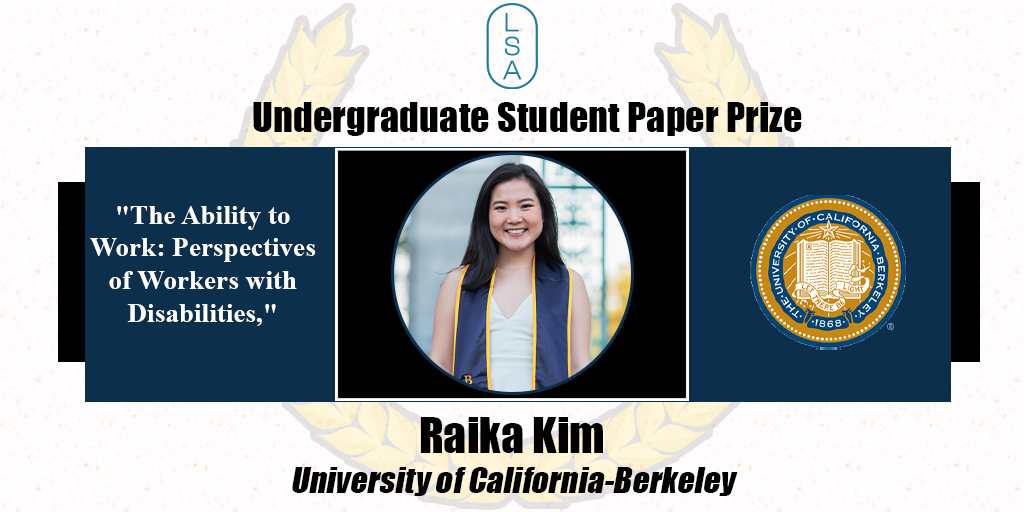 Kim's paper, "The Ability to Work: Perspectives of Workers with Disabilities," consists of a rigorously-conceived and carefully-executed study through the lens of workers with disabilities. Kim extends the literature, showing that people with disabilities understand and experience their disabilities in a range of ways that do not necessarily match legal definitions. It marks the second-straight year that a UC-Berkeley student has taken home this prize.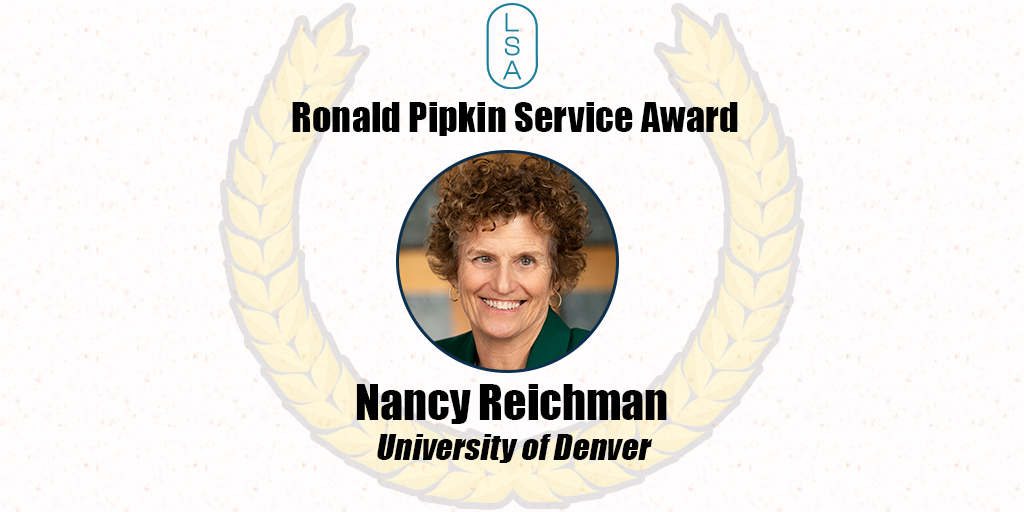 The Ronald Pipkin Service Award for sustained and extraordinary service to the Association was given to Nancy Reichman of the University of Denver. Over the course of her career, Nancy has taken on extensive service roles for LSA. Early in her career (1992-1994) she served as Associate Editor of the Law & Society Review. She also was a member of the LSA Board of Trustees (1990-1992) and held the LSA Secretary position from 2005-2007. In addition to serving as chair of the 1989 Program Committee, co-chairing the Program Committee (2010) and chairing the Nominations Committee (2013), Reichman has served countless times as a discussant or chair for various panels at Annual Meetings. Professor Reichman also played a pivotal role in the Association's recent Executive Office transition. She chaired both the LSA Transition Planning Committee (2013) and the Executive Officer Search Committee in 2015.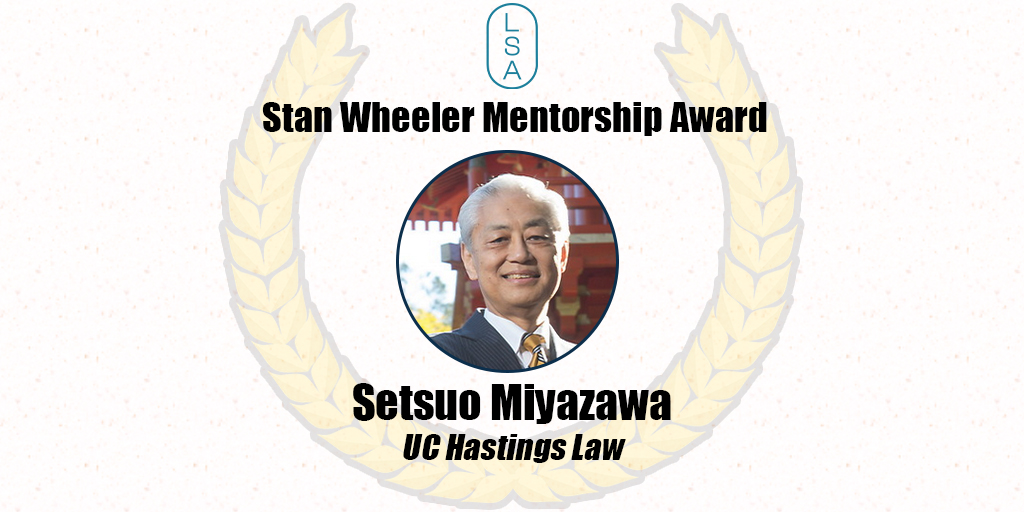 UC Hastings Law professor Setsuo Miyazawa earned two LSA awards this year, as he was chosen for the Stan Wheeler Mentorship Award and was also one of five Legacy Award winners. Professor Miyazawa, a former student of the late Stan Wheeler at Yale, has played a vital role in encouraging young Japanese scholars to learn about American law in the U.S., while also sending American students to Japan to conduct research. He is known for taking these same students—almost by hand—and introducing them to various well-known scholars in LSA who shared their research interests. Many of these students are now eminent scholars in the sociolegal field. Dr. Miyazawa is the first Asian scholar to receive the Wheeler Award. He was also the recipient of LSA's International Prize in 2014.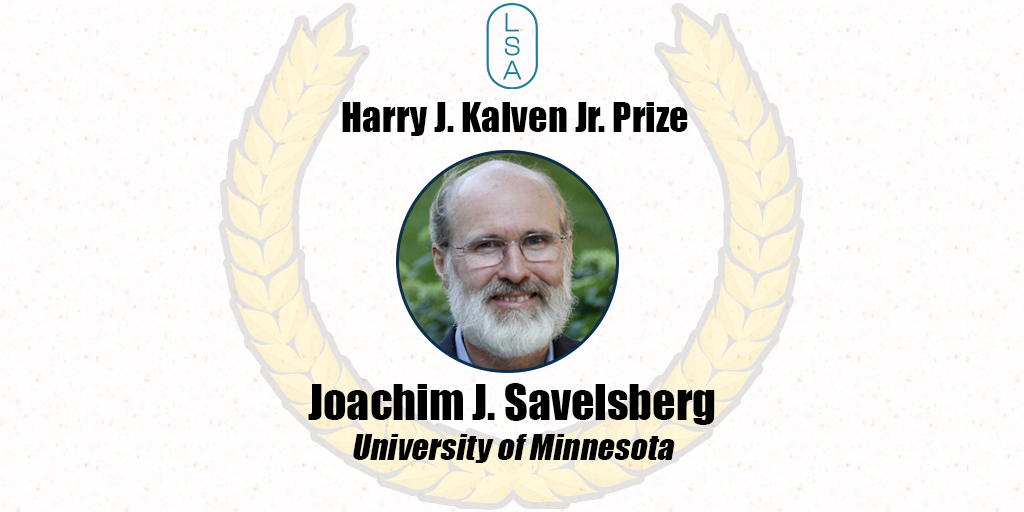 The Harry J. Kalven, Jr. Prize for empirical scholarship and the advancement of research in law and society went to Joachim J. Savelsberg of the University of Minnesota. Professor Savelsberg has been a life-long sociolegal scholar, holding research positions all around the world. Described as an "intellectual pioneer" in the field, he has written eight books and over 100 articles and essays, many of which have been featured in law and society research venues. Professor Savelsberg's research seeks to understand the place of law in addressing and remembering mass violence, atrocities and the need for transitional justice.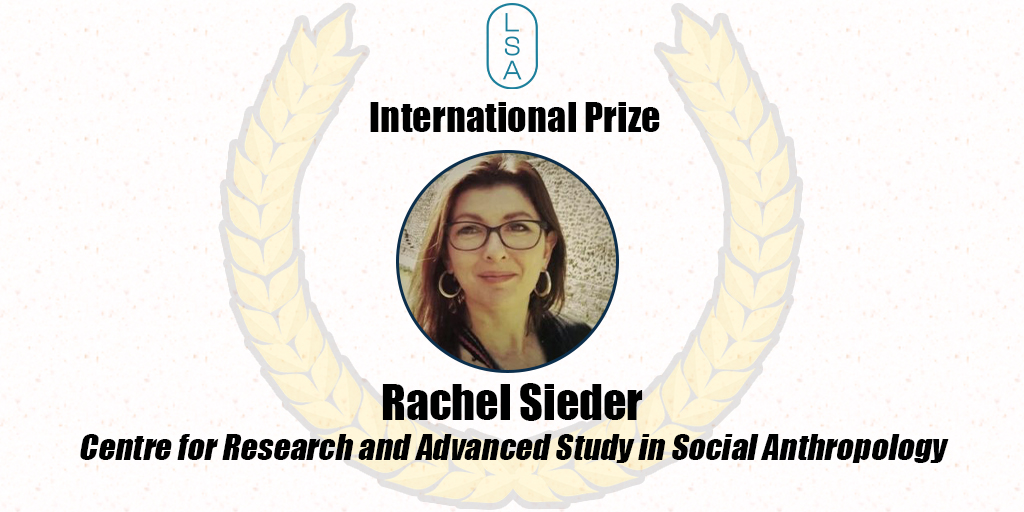 This year's International Prize was awarded to Rachel Sieder — a senior research professor at the Centre for Research and Advanced Study in Social Anthropology (CIESAS) in Mexico City. A leading scholar in the study of legal pluralism and the judicialization of politics, she has contributed significantly to the understanding of indigenous rights and the relation between indigenous legal systems and state law, particularly in Central America. Professor Sieder has led numerous collaborative law and society research projects, bringing together scholars from the global south and north, including a CRN on Sexual and Reproductive Rights Lawfare in Latin America, and currently an IRC Pluriland: Theorizing Conflict and Contestation in Plural Land Rights Regimes. Professor Sieder is widely published in both English and Spanish and has benefitted the international law and scholarship community as a mentor, editor and organizer.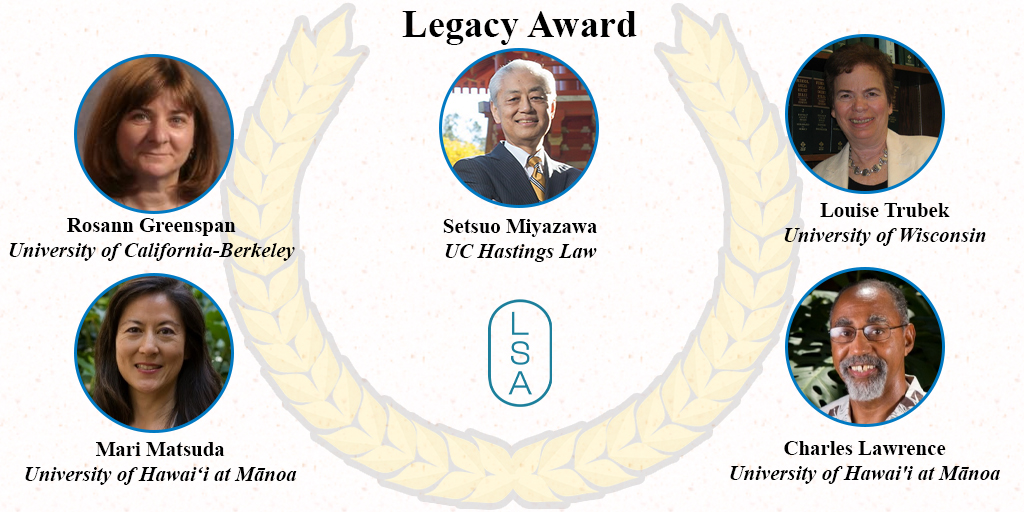 Each year, LSA honors people whose contributions significantly helped to develop the association through sustained commitment to its mission and legacy, extensive service or scholarly publications that made a lasting contribution to LSA. This year's Legacy Award winners include Rosann Greenspan (University of California-Berkeley), Mari Matsuda (University of Hawaiʻi at Mānoa), Louise Trubek (University of Wisconsin Law School), Charles Lawrence (University of Hawai'i at Mānoa) and Professor Miyazawa.
Congrats to all of the LSA 2021 Honorable Mention selections!

LSA kicks off its 2021 Virtual Annual Meeting on Wednesday, May 26. Visit this year's virtual conference website to learn more.
2021 LSA AWARDS
Law and Society Association Article Prize
Rachel E. Stern | University of California-Berkeley
Lawrence J. Liu | University of California-Berkeley & Yale Law School
Dissertation Prize
Tobias Smith | University of California-Berkeley
Edward van Daalen | University of Genève
John Hope Franklin Prize
Kara W. Swanson | Northeastern University
Honorable Mention – Deborah N. Archer | NYU School of Law
Honorable Mention – I. India Thusi | Delaware Law School
Graduate Student Paper Prize
Nafay Choudhury | Harvard Law School & University of Cambridge
Willard Hurst Book Prize
Samuel Fury Childs Daly | Duke University
Honorable Mention – Durba Mitra | Harvard University
Law and Society Association International Prize
Rachel Sieder | Centre for Research and Advanced Study in Social Anthropology
Herbert Jacob Book Prize
Arzoo Osanloo | University of Washington
Honorable Mention – Sarah Brayne | University of Texas at AustinHonorable Mention – Sarah Esther Lageson | Rutgers University
Harry J. Kalven Jr. Prize
Joachim J. Savelsberg | University of Minnesota
Legacy Award
Rosann Greenspan | University of California-Berkeley
Mari Matsuda | University of Hawaiʻi at Mānoa
Louise Trubek | University of Wisconsin Law School
Charles Lawrence | University of Hawai'i at Mānoa
Setsuo Miyazawa | UC Hastings Law
Ronald Pipkin Service Award
Nancy Reichman | University of Denver
Undergraduate Student Paper Prize
Raika Kim | University of California-Berkeley
Stan Wheeler Mentorship Award
Setsuo Miyazawa | UC Hastings Law
###