Get to Know Mark Fathi Massoud!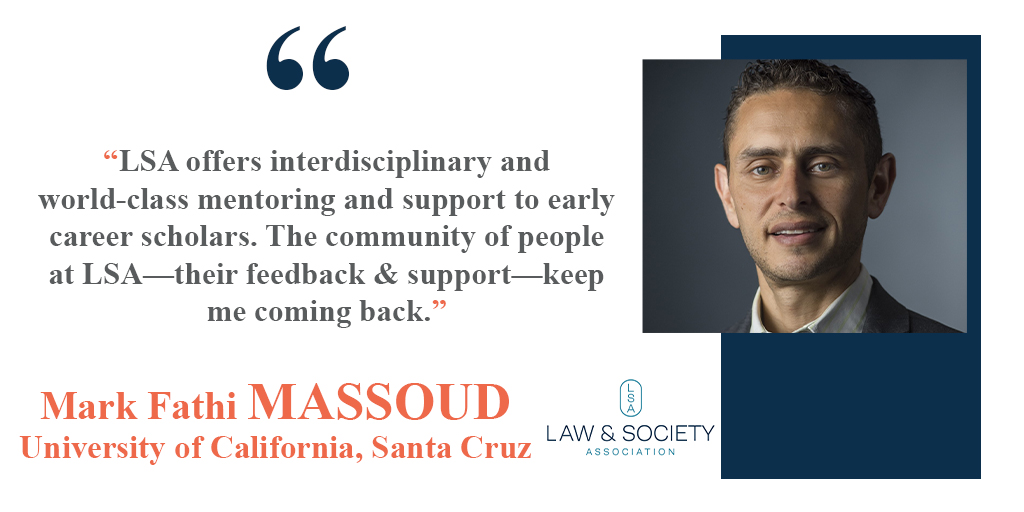 Institution: Professor of Politics and Legal Studies; Director, Legal Studies Program – University of California, Santa Cruz
Number of years as LSA member: 15
Number of LSA Meetings Attended: 15
LSA Governance Position(s) and Committees:
Member, LSA Undergraduate and Graduate Student Paper Prize Committee, 2014 and 2017
LSA Board of Trustees, 2018-2021 (Class of 2021)
LSA ad-hoc publications committee, 2018-2019
Chair, LSA Publications Committee, 2019-2020, 2020-2021
LSA Graduate Student & Early Career Workshop, 2019-2020, 2020-2021
Areas of Research:
"I study the rule of law in crisis. At a time when many people want to separate religion from nation, my work brings God back into the law and shows how faith in a higher power can guide people back toward the rule of law. I have conducted fieldwork on the politics of law and religion in Sudan and in Somalia and Somaliland."
Favorite Topics to Teach or Research:
International Law
Rule of law
Religion
State-building
Notable Awards:
University of Oxford Evans-Pritchard Lectures in Social Anthropology (2022)
2018 Friedman-Lowenthal Prize for best essay in Jewish Studies, Graduate Theological Union
2014 Law and Society Association Herbert Jacob Prize for best book in law and society
2014 Law and Society Association 50th Anniversary Essay Award
2012 Canadian Association of Law Teachers Scholarly Paper Award
2009 American Political Science Association Edward S. Corwin Award for best dissertation in public law
2009 Law and Society Association Dissertation Prize
2008 Law and Society Association Graduate Student Paper Prize
2008 International Studies Association Steven C. Poe Prize for best graduate student paper in human rights
2007 Irving Prize for American Wit and Humor (creative writing award)
2006 Eisner Prize in Literature (UC Berkeley's highest award for creative writing)
2000 Peace and Justice Studies Association Outstanding Student Paper Award
1998 Peter Yarrow Award for Excellence in Peace Studies
Guggenheim Fellowship
Carnegie Fellowship
Unique Fact:
"Since 2017, I have been an editor of the Cambridge Studies in Law and Society book series, with Cambridge University Press. Founded in 1997, the series has published 115 empirically innovative and theoretically sophisticated books at the intersection of law, the humanities, and social sciences."
Books Published: 
Shari'a, Inshallah: Finding God in Somali Legal Politics (Cambridge University Press 2021)
Law's Fragile State: Colonial, Authoritarian, and Humanitarian Legacies in Sudan (Cambridge University Press 2013 — LSA Herbert Jacob Book Award in 2014)
Media Appearances: 
"Muslim women are using Sharia to push for gender equality" – The Conversation
"BBC Interviews Politics Professor Mark Fathi Massoud"
"How Can Universities Deal with Racism? Learn From War Zones" – The Washington Post (Monkey Cage)
"Don't Blame Sharia for Islamic Extremism – Blame Colonialism" – The Conversation
Learn more about Professor Massoud, his media appearances, awards and publications by viewing his bio, here.