LSA Stories: Defying Great Odds – Mitigating Property Loss Through Historic Partition Law Reform in the U.S.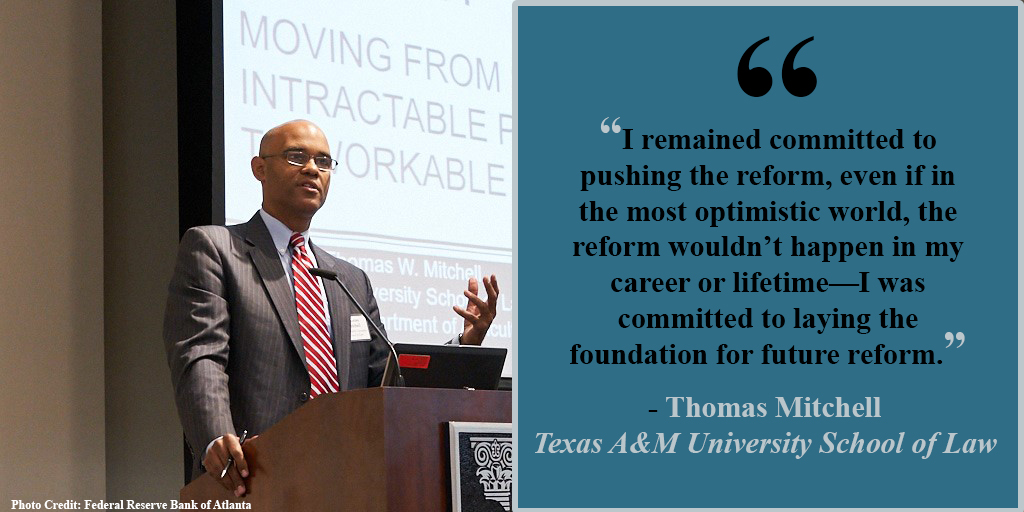 LSA member Thomas Mitchell drafted a Uniform Act that has been enacted by 17 U.S. states and the U.S. Virgin Islands
By Greg Barlow | LSA Executive Office
AMHERST, Mass. – Thomas Mitchell didn't expect to witness historic reform on black land loss in the U.S. during the peak of his career or even in his lifetime. National media attention, backing from Congress, providing policy advice to presidential campaigns, and passing a new law through legislation seemed unimaginable. Fifty years at least—that's how long Mitchell expected it would take for his Uniform Partition of Heirs Property Act (UPHPA) to gain any traction. However, a shift in the paradigm and boost from the media helped push Mitchell's Act through the floor of the legislature in 17 states and the U.S. Virgin Islands in a matter of years, not decades.
The UPHPA addresses partition action abuses that have led to significant property loss. Mitchell served as the principal drafter of the Act, promulgated by the Uniform Law Commission (ULC). An article he published in the Northwestern University Law Review (2001)—which was a refinement of his 1999 master's thesis that he developed while earning his LL.M. from the University of Wisconsin Law School—laid the groundwork for the national drive to reform antiquated state partition laws. He has been a perennial Law and Society Association (LSA) member ever since his grad school years.
"I value learning from many LSA members who are scholars and conduct interdisciplinary work in a variety of fields using different methodological approaches," said Mitchell. "These scholars often seek to obtain a deep understanding of various sociolegal phenomenon that often are not well understood, notwithstanding the fact that there sometimes has been some long-held, unexamined conventional wisdom that appeared to analyze the phenomenon adequately. In other instances, certain sociolegal issues remained poorly understood because they simply were not viewed as being worthy of much rigorous study."
Mitchell has been an active LSA member and is a part of two Collaborative Research Networks (CRN): Socio-Legal Approaches to Property (SLAP) and New Legal Realism (NLR). SLAP facilitates an interdisciplinary conversation, connecting scholars from around the globe whose common interest is in conducting sociolegal research regarding property. NLR focuses explicitly on supporting efforts to translate social science into legal scholarship, while also encouraging a broader understanding of legal logics that often operate independently of empirical research.
"Despite all the opposition he has faced, Prof. Mitchell has persisted," said Bernadette Atuahene of Chicago-Kent College, who serves as Co-organizer for SLAP. "His work unpacks the fact that African-Americans owned more land in 1918 than they do in the present time. The problem of continued African-American land loss has been mitigated and our world is a better place because of him."
Mitchell currently serves as a Professor of Law at Texas A&M University and Co-Director for the school's Program in Real Estate and Community Development Law. He is just the second African American to serve as a Reporter (a person vested with the principal responsibility for drafting a uniform act) for the ULC in its 128-year history, a period of time in which the ULC has had approximately 450 people serve as Reporters.
Mitchell's work involves researching rural and urban property loss issues and the legal mechanisms that sustain and facilitate this phenomenon across the country. In addition to his full-time career as a professor, Mitchell has devoted his life to mitigating these issues, which have disproportionately affected poor and minority communities nationwide.
If a landowner dies intestate with at least two heirs, the property passes to their inheritors as tenants-in-common under state law. This phenomenon is fairly common, given 40-60 percent of Americans die without a will or estate plan. Intestacy disproportionately impacts Black and LatinX communities, due to enormous racial and ethnic will-making and estate planning gaps. Real estate speculators often attempt to acquire a small share of heirs' property in order to file a partition action and force a sale against the will of many disadvantaged families. Using this tactic, an investor can acquire the entire parcel for a price well below its fair market value and deplete a family's inherited wealth. The forced sales of heirs' property represent one of the leading causes of black land loss.
"Going back 20 years ago, I was considered this wild-eyed, naive optimist, and even if we had gotten a couple states, that would have been viewed as surprising among law professors and legal academics," recalled Mitchell. "But I remained committed to pushing the reform, even if in the most optimistic world, the reform wouldn't happen in my career or lifetime—I was committed to laying the foundation for future reform."
As a graduate of Amherst College and Howard University School of Law, Mitchell's thinking was influenced by the life of Charles Hamilton Houston. Houston, who also was an Amherst College graduate, subsequently became the Dean of Howard Law School in the 1920s and 1930s and then served as the first special counsel for the National Association for the Advancement of Colored People (NAACP). He additionally trained a cadre of lawyers, including the Supreme Court's first African-American Justice Thurgood Marshall, who Houston initially mentored when he was a law student at Howard.
Mitchell, who is recognized as a national expert on African American land loss, now garners regular local and mass media attention for his work, being featured across numerous media outlets over the last two decades, with VICE, The New Yorker, The Washington Post, Politico, ProPublica, The Nation, and Spectrum News NY1 among the list. He has had over 35 media interviews over the past two years alone.
"Often times, various legal professionals want to center themselves in some great historical development, and sometimes that means as a law professor, we want to be seen as a catalyst of changes in the law," noted Mitchell. "Our scholarly work is necessary if you want to impact the law, but in terms of catalyzing the necessary broader awareness or incentivizing elected officials and other policymakers to take action, it's rarely a piece of scholarship that's going to be the driving force of that change. What can be incredibly helpful in many of these efforts, perhaps especially movements promoting social or racial justice, is media coverage."
Following the Civil War, African Americans accumulated a significant amount of property through private purchase, despite the federal government reneging on its promise to distribute substantial amounts of confiscated confederate-owned land to freed slaves, totaling at least 16 million acres by 1910. Since then, these families have been stripped of billions of dollars' worth of property, as Mitchell and his research collaborators are working on documenting at this time.
Upon initially acquiring these properties, the land typically was not considered "prime" real-estate. Over time, new infrastructure such as bridges made many of these places easily accessible, and developers realized these lands had incredible economic potential. With the growth of tourism and suburban sprawl, that land found its way into the path of development and has become a target of forced partition sale.
"They [real estate developers and/or investors] see how vulnerable these families are, so they prey upon these families," Mitchell noted. "It's a national problem, but I think it's been particularly pronounced in the South."
Mitchell outlines the core reasons how and why this occurs: "Unstable ownership circumstances, no will or estate plan, property owners who are property rich but cash poor, and a surge in real estate values." Families who lack any practical access to affordable legal services are also more prone to property loss issues. Many owners were also the victims of other systematic inequalities, including predatory taxing, which also contributes to the country's massive racial wealth gap. For instance, records indicate local officials deliberately inflated property taxes or set assessments too high in effort to force owners off their land via tax sale.
A New Yorker article stated 76 percent of African Americans do not have a will—more than twice the percentage of white Americans. The properties these families own are commonly referred to as heirs' property, which is a subset of tenancy-in-common ownership—the most unstable form of common real property ownership within the American legal system. Some have estimated that a third of Southern African American-owned land is held under these conditions.
Many of these owners didn't have access to the legal system upon originally purchasing the property and sometimes didn't have much faith in the law, given the long history of lawyers taking advantage of African Americans as well as the systemic racial discrimination they have faced in many courts and other parts of the legal system. Under tenancy-in-common ownership, a speculator or developer can purchase a fraction of the land from just one co-tenant and then petition a court to order partition by sale.
In 2001, the Associated Press (AP) published a three-part, award-winning series about black land loss called " Torn from the Land," placing the issue on a national stage. Mitchell was among the experts called to interview for the series. The story was one of many generated by the mass media as a result of a significant class action lawsuit filed by African American Farmers against the United States Department of Agriculture (USDA): Pigford v. Glickman (1999). The African American farmers had claimed the USDA systematically discriminated against them for decades, preventing them from obtaining USDA farm loans and receiving benefits from other assistance programs, leading to widespread foreclosures on their farm land. The AP journalists decided to extend the story further and explore African American land loss from a more general perspective to discover the pathways in which land dispossession takes place.
"These two AP investigative reporters just did an amazing job, and for me it was the AP series that served as the catalyst for the American Bar Association to get involved," Mitchell noted. "It was serendipitous. And now, I'm very conscious of the impact the media can have in helping support social movements and our legal reform effort in particular. It doesn't always have to be a grand slam or home run such as the AP series—sometimes even an op-ed in a local paper can go a long way."
In 2010, the ULC promulgated the UPHPA. It has since continued to gain momentum and defy long-held assumptions about the chances partition law could ever be reformed to respond to the needs of poor and disadvantaged property owners. The Act provides a series of simple due process protections: notice, appraisal, and the right of first refusal. If a court does order a property to be sold, the Act also calls for the sale to occur on the open market by a real estate broker using commercially-reasonable practices and under the supervision of the court to ensure all parties receive their fair share of the proceeds.
It additionally weighs in non-economic factors, such as whether the property has historic or cultural value, whether a family has owned the property for a long time and whether one or more of the common owners who had been using the property for a legal purpose would be harmed by a sale, including by having the quality of their housing substantially diminished or even by being rendered homeless. In addition to the 18 U.S jurisdictions that have already enacted the UPHPA, several other states will be considering the UPHPA over the course of the next few years.
Getting the public on board was equally critical to Mitchell's success in passing the UPHPA. He notes the importance of presenting complex stock issues and then using anecdotes before reciting his recommendations in a manner that is comprehendible to the general public and lawmakers.
"When I testify in state legislatures, they don't want the PhD dissertation," Mitchell said. "They don't want the 35,000-word article. You basically have seven minutes to make your point. And in those seven minutes, you have to tell a story that is compelling and pulls at heart strings. In my case, what I realized in many of the states, especially the Southern states, was that framing our bill as solely a racial justice issue was not going to be a winner, so also framing it as private property rights and protecting family real-estate wealth is important."
The success the UPHPA has had in the South has surprised a great many people who had assumed this region would be least receptive to partition law reform that would benefit disadvantaged property owners—an assumption that was rational, given the many failed attempts to reform partition law in several Southern states. Mitchell believes at least half the country will enact it over the next four years.
"A provision in the 2018 federal Farm Bill that specifically mentions the UPHPA and provides incentives for states that have not enacted it to do so has been a game changer," Mitchell noted.
Largely as a result of this Farm Bill provision, the UPHPA has been enacted into law in Florida, Illinois, Mississippi and Virginia over the course of the past two years. Virginia Governor Ralph Northam considered the UPHPA to be so significant that he decided to hold a special event this past July to recognize his state's adoption of it and to conduct a ceremonial signing of the act.
"We still have a lot of work to do to make Virginia and this country welcoming to everybody," said Governor Northam at the event. "Whether it be access to quality healthcare, access to education, business opportunities or even the voting booth, access to one's family farm is also important."
Although Mitchell's work on partition abuse in Southern states served as the initial impetus for the UPHPA, the Act has been well-received all around the country. In addition to the eight Southern states that adopted the Act, the UPHPA has been enacted in every region of the U.S. Mitchell notes partition law also has had a negative impact upon families from other racial or ethnic groups, whether these families have owned land in the South or in other regions. However, poor and disadvantaged families are at the highest risk of losing heirs' property, due to forced sales.
"To this end, there are some commentators who have estimated that Hispanics in New Mexico alone in the late nineteenth and early twentieth century lost more than 1.6 million acres of property deemed by the federal government to be tenancy-in-common property and that partition sales accounted for much of this loss," said Mitchell.
Native Hawaiians have additionally been negatively impacted by partition law, as a high-profile case from a few years ago involving Facebook CEO Mark Zuckerberg made clear. In urban places such as New York City, intense gentrification has made heirs' property often owned by African Americans a target for real estate investors as an award-winning investigative report revealed in 2019—a report that served as the catalyst for New York state adopting the UPHPA.
The success of the UPHPA wouldn't be possible without the collaboration, endorsements and support from local and national non-profit organizations and government agencies. The affiliated organizations that endorsed this Act can be viewed here.
"It's an interesting bottom-up and top-down mix of non-profits like the ABA and non-profits that have worked in the trenches on heirs' property issues for decades," said Mitchell. "The involvement of elite organizations such as the ULC and the ABA has been a big deal, given all their connections, and many grassroots organizations as well have played a key role in building support for the UPHPA in particular states."
The unexpected success of the UPHPA has brought forth a second proposal led by Mitchell that was recently approved by the ULC. The proposal addresses further issues disadvantaged landowners face with a different set of property laws. The ULC has established a year-long study committee to assess the scope of the problem and the remedies required to address these issues. In the course of the 2020 U.S. Presidential election season, a couple of campaigns have asked Mitchell to help advise them on law and policy issues impacting minority and disadvantaged farmers and landowners.
Mitchell currently has a book in the pipeline about the UPHPA and heirs' property that will be completed by the end of next summer. His co-editor is Erica Levine Powers, is Chair of the State and Local Government Law Section of the ABA. The book, which will be published by the ABA, is titled Heirs Property and the Uniform Partition of Heirs Property Act: Challenges, Solutions, and Historic Reform .
To learn more about Thomas Mitchell, check out his bio here. To learn more about the UPHPA, go here. LSA's Collaborative Research Networks (CRNs) can be viewed here. For the latest LSA news and updates, visit our member portal site here. 
Mitchell was recently featured in a VICE documentary called Losing Ground about how property law is used to appropriate black land (which airs on Showtime). Check out the video here.