Law & Society Review Publishes "Interpreters of International Economic Law: Corporations and Bureaucrats in Contest over Chile's Nutrition Label"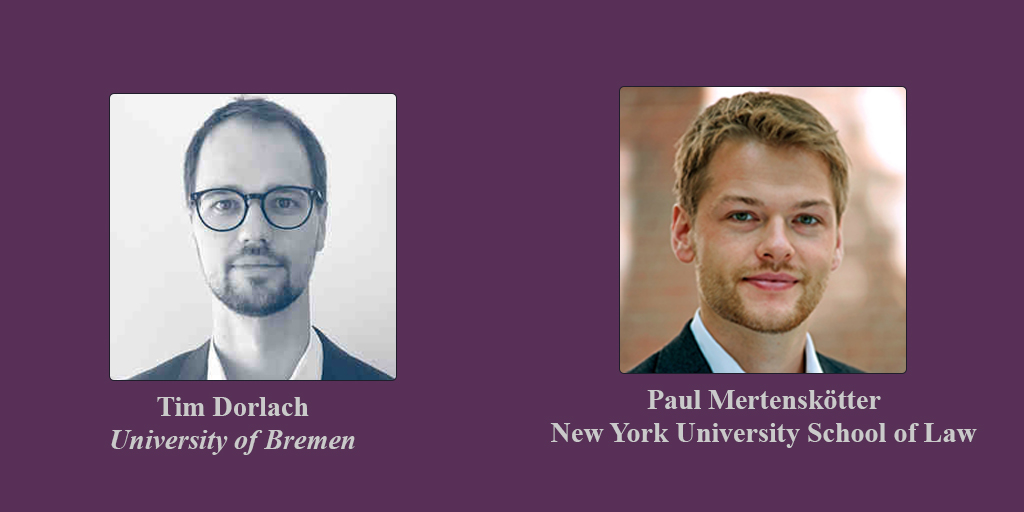 The article describes how the restrictive interpretation of international economic law controls and influences domestic government regulatory policies around the world
AMHERST, Mass. – International economic law shapes the world we live in. Political scientist Tim Dorlach (University of Bremen) and legal scholar Paul Mertenskötter (New York University School of Law) published "Interpreters of International Economic Law: Corporations and Bureaucrats in Contest over Chile's Nutrition Label," in the latest issue of the Law & Society Review. Using an in-depth case study of the introduction of Chile's 2015 nutrition labeling regulation aimed to discourage the consumption of unhealthy food products, the article provides insight into the uphill battle national government regulators face in a world of globalized regulatory policymaking.
"Our research demonstrates that World Trade Organization law allows member states much more regulatory autonomy than corporate actors tend to suggest, especially when regulations pursue clearly legitimate objectives such as the protection of public health," Dorlach noted.
Transnational corporations often advance extremely restrictive interpretations of international economic law to challenge unwanted regulations. Dorlach and Mertenskötter shed light on the "missing middle" within the complex understanding of international economic law that national trade bureaucrats and transnational corporations strategically interpret to support their own interests. These interpretations affect key policy areas such as public health, environmental and consumer protection, and often influence which policies can be enacted. The authors argue that corporations deliberately attempt to prevent legitimate government action that threatens their commercial interests, using these extremely restrictive interpretations of international economic law as a vehicle.
Social regulators are at a disadvantage, given their limited financial resources and inexperience with international economic law. On the other hand, despite lacking any formal decision-making power, transnational corporations possess an array of financial and human resources at their fingertips and use their experience with WTO laws to their advantage. This allows them to disseminate partial interpretations of international economic laws directly to national regulators and via the WTO's committees.
In the article, Dorlach and Mertenskötter draw on data from freedom-of-information requests and in-depth interviews to demonstrate how everyday interpretive practices of national bureaucrats and transnational corporations shape the policies that national governments can introduce.
The authors analyze the fight between the Chilean health ministry and the transnational food industry over regulatory measure legalities under the agreements of the WTO. Chile's groundbreaking nutrition labeling regulation, in effort to mitigate unhealthy diets, obesity and noncommunicable diseases such as cancer and heart attack, required foods and drinks high in calories, sugar, salt and certain fats to carry front-of-pack warning labels and to comply with sales and marketing restrictions—restrictions aimed to ban unethical business practices like child-directed marketing.
Initially, the transnational food industry's interpretations of WTO law rejected Chile's right to mandate warning labels or prohibit the use of trademarked cartoon characters in advertising. But Chilean health bureaucrats eventually succeeded in introducing these regulatory innovations, turning their country into a worldwide leader in tackling the global obesity crisis. Similar battles "in the shadow" of international economic law, such as Canada versus the tobacco industry and Indonesia's attempts to introduce similar food labeling, are also cited in the study.
Fear tactics such as raising legal concerns, sending threat letters from global law firms and legally-framed stakeholder submissions during public consultations shape how national regulators understand international economic law and what they believe their "legally available" policy space is. Using WTO law as a tool, corporations can engage in interpretive capture, especially within more vulnerable governments, and influence or overpower national social regulators in an effort to achieve more favorable commercial regulations at the expense of the public interest.
The paper concludes that "training social regulators in the everyday practices of international economic
law is crucial to increasing states' regulatory autonomy." The authors hope social regulators will have access to legal advice and training in order to be able to better understand the flexibilities that international economic law does provide.
The full article can be viewed on the Wiley Online Library here.
###
Founded in 1964, the Law and Society Association (LSA) is a non-profit interdisciplinary scholarly organization committed to social scientific, interpretive and historical analyses of law across multiple social contexts.
The Law and Society Association publishes the Law & Society Review (LSR) in four issues per volume each year. Founded in 1966, LSR is recognized by sociolegal scholars worldwide as a leading journal in the field. LSR is a peer-reviewed publication for work that explores the relationship between society and the legal process.