Get to Know Robert Dingwall!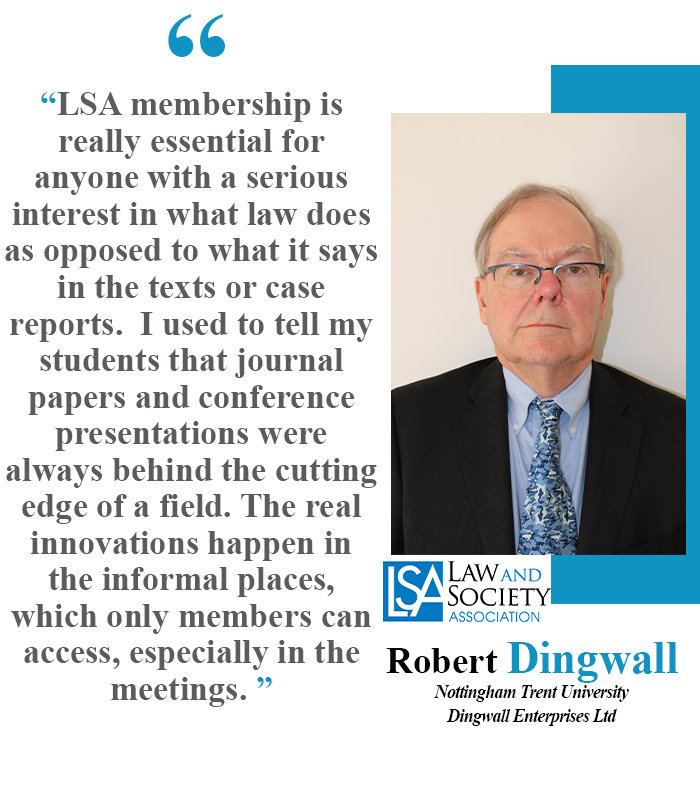 Institution(s):
Nottingham Trent University
Dingwall Enterprises Ltd
Number of years as LSA member: 35
Number of LSA Meetings Attended: 30
LSA Officer Position(s) and Committees Served:
Trustee (1999-02) 
Nominations Committee
Publications Committee
Annual Meetings Planning Committee
Herbert Jacob Book Prize Committee
Harry J. Kalven Jr. Prize Committee
Stan Wheeler Mentorship Award Committee
Areas of Research:
Law and Healthcare
Dispute Resolution
Legal Profession
Law and Language
Tort
Family and Children
Regulation
Favorite Topic to Teach or Research: Law and Healthcare
Major Award(s) or Honors: 
Fellow of Academy of Social Sciences
Honorary Member of the Faculty of Public Health
Socio-Legal Studies Association – Contributions to the Socio-Legal Community Award (2020)
Unique Fact: "Dingwall has held grants and contracts worth more than £7 million (at 2017 prices) in total from the Leverhulme and Wellcome Trusts, ESRC, NERC, MRC, EPSRC, BBSRC, the EU, the UK Department of Health and various NHS/NIHR programmes, the Ministry of Justice, the Royal Pharmaceutical Society and the Food Standards Agency. These have resulted in 30 books and more than 100 scientific papers." 
Top 3 Books or Articles Published: 
(R. Dingwall, J.M. Eekelaar and T. Murray), The Protection of Children: State Intervention and Family Life, Basil Blackwell, Oxford, 1983. 
 
(D. Greatbatch and R. Dingwall) 'Selective facilitation: some preliminary observations on a strategy used by divorce mediators', Law and Society Review, 1989, 23; 4: 613 41.  

'The ethical case against ethical regulation in humanities and social science research', 21st Century Society, 2008, 3; 1: 1-12.
Recent Media Appearances: 
To learn more about Robert's career and his research, visit his website and NTU bio.