Get to Know Thomas Mitchell!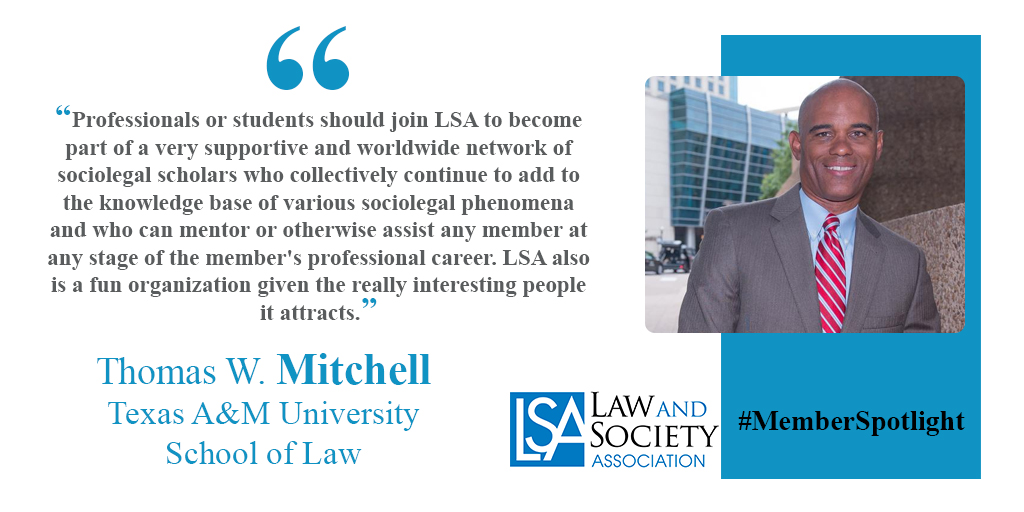 Institution(s):
Texas A&M University School of Law
Number of years as LSA member: 19
Number of LSA Meetings Attended: 10
Collaborative Research Networks: New Legal Realism; Socio-Legal Approaches to Property
Areas of Research:
Class
Comparative Law
Economic Law
Geography and Law
History
Justice
Race and Ethnicity
Favorite Topic to Teach or Research: Racial socio-economic inequalities arising from historical and current systemic racism in various property law relationships and systems.
Major Award(s): 
Elizabeth Hurlock Beckman Award
Fellow for the American College of Real Estate Lawyers
Fellow for the American Bar Foundation.
Unique Fact: "I am just the second African American ever to serve as a Reporter (person vested with the principal responsibility for drafting a uniform act) for the Uniform Law Commission (ULC) in its 127-year history, a period of time in which the ULC has promulgated about 450 uniform acts and has had between 475-500 Reporters (for some of the really big uniform acts such as the Uniform Commercial Code the ULC has had multiple Reporters)."
Top 3 Articles Published: 
From Reconstruction to Deconstruction: Undermining Black Landownership, 
Political Independence and Community Through Partition Sales of Tenancies 
in Common, 95 Northwestern University Law Review 505 (2001)

Reforming Property Law to Address Devastating Land Loss, 66 Alabama Law Review 1 (2014) (lead article)

New Legal Realism: Translating Law and Society for Today's Legal Practice (volume one) (Cambridge University Press 2016) (edited with Elizabeth Mertz and Stewart Macaulay).
Recent Media Appearances: 
(To learn more about Thomas Mitchell's media appearances, visit his bio at https://law.tamu.edu/faculty-staff/find-people/faculty-profiles/thomas-w-mitchell).