Dr. Veronica Fynn Bruey persevered through her long and harrowing journey as a war survivor and refugee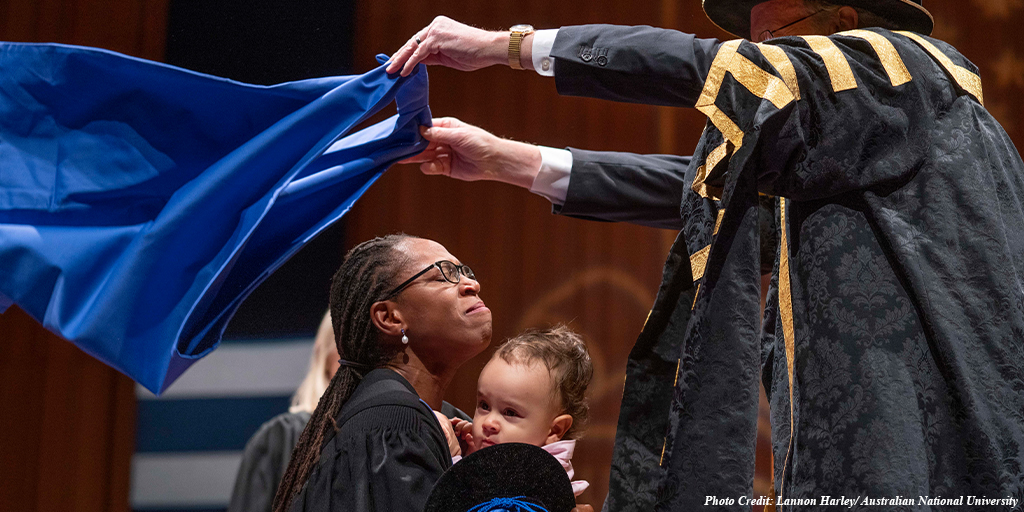 By Greg Barlow | LSA Executive Office
AMHERST, Mass. – On July 26, 2019, Veronica Fynn Bruey held her son as she walked across the stage at the Australian National University's commencement ceremony to receive her PhD in Indigenous Law. Born and bred a Liberian War survivor and refugee, this was a moment that capped a long and harrowing journey. It was a prolonged-awaited moment that marked a comforting prospect in Dr. Fynn Bruey's venture through adversity and perseverance.
A nine-year Law and Society Association member, Fynn Bruey is constantly expanding her advocacy network for refugees. She is the co-organizer for the LSA's Collaborative Research Network (CRN 11) called "Displaced Peoples."
Fynn Bruey became a refugee at the age of 13. Traveling by foot and sometimes alone, she found shelter in abandoned buildings, schools and homes. She drank water from creeks and streams—if they weren't infested with dead bodies.
"You're born into poverty, and then on top of it, a civil war comes and just uproots you without any forewarning, and your life is literally left in limbo—you have no idea what's going to become of your life," Fynn Bruey noted. "I was internally displaced for a little over a year. When I returned home in May 1991, our house was destroyed so I had to perch around until my mother and siblings returned in October."
Fynn Bruey and her family—members of a peacekeeping force—were even held hostage on several occasions, accused by Charles Taylor rebels for being members of an ethnic group representing then- Liberian president Samuel Doe. She faced physical abuse and violence.
Even with the relatively low rate of reporting, there have been at least 12,000 cases of sexual violence against girls and women documented in Liberia over a period of five years— a stat noted in her 2018 dissertation titled: Systematic Gender Violence and the Rule of Law Aboriginal Communities in Australia and Post-War Liberia). Fynn Bruey witnessed this disturbing phenomenon first-hand.
"This [sexual violence] is a personal touch to my research because I have lived that experience," said Fynn Bruey. "War criminals who have raped women have now today escaped scar-free because there is no legal system put in place to ask them questions to be accountable. My research tries to address some of those issues and tap into the possibility to brining some of those people to justice, so women can close those chapters of their lives."
The tides turned for Fynn Bruey aboard a Ghanaian peacekeeping force vessel traveling across the Atlantic Ocean in 1992. After completing secondary school and performing national service, she had graduated from the University of Ghana in 2000 with her BSc Hons in Zoology/Biochemistry —her first of many college degrees she would obtain.
"I found her [Fynn Bruey] to be a very articulate, hardworking and conscientious young lady who exuded self-confidence despite her refugee status," mentioned Dr. Daniel Attuquayefio of the University of Ghana. "I have followed Veronica's social, professional and academic progress over the years, and I am highly impressed with her achievements—especially considering where and how it all began. She has been a role model for especially my female students as one of my best-performing students over the past 20 years."
Motivated by her mother, teachers and professors who mentored her, Fynn Bruey was determined to continue her voyage through the world of academia. She received the World University Service of Canada (WUSC) refugee sponsorship through the Student Refugee Program (SRP) to attend the University of British Columbia (UBC) in 2001. There, she founded Africa Awareness—a student-driven initiative that is responsible for implementing the first inter-disciplinary African Studies program. Organizing this group would eventually help her earn the UBC Alumni Global Citizenship Award in 2010.
The WUSC is a non-profit Canadian organization dedicated to improving education, employment and empowerment opportunities for youth, women and refugees in more than 25 countries. Partnering with 95 Canadian colleges and universities, the SRP supports over 130 students per year. A 2007 study found that 97 percent of sponsored students in the program had completed or were in the process of completing their post-secondary program with many intending to further their education. Since 1978, the program has supported over 2,000 young refugees to continue their education in safe and supportive environments.
Shirin Theophilus, a former UBC International Student advisor, and her husband Daniel welcomed Fynn Bruey and her cousin Kade into their home upon arriving in Canada. They refer to themselves as Fynn Bruey's "Canadian Parents."
"I saw such potential in her to become a leader in any area that she chose to pursue," recalled Theophilus. "She knew this in her heart, that her achievements are not only for her but also for all humanity. Even as a student, she lived with the deep knowledge that she is responsible for all the opportunities that came her way to make this world a better place for women and children."
Fynn Bruey went on to receive her BA, MPH, LLM, LLB (Honours) and PhD, as her alma mater list extended to the University of British Columbia: Vancouver (BA, 2004), the University of Nottingham (MPH, 2006), York University Osgoode Hall Law School (LLM, 2009), University of London (LLB, 2016) and the Australian National University (PhD, 2018).
"I am a survivor of war and abuse, but it didn't stop me from acquiring six academic degrees from prestigious universities across four continents," Fynn Bruey said. "I have always been told, usually by white males, that I wasn't good enough no matter my lived experiences and my academic credentials. So, I always needed to get more qualifications."
Fynn Bruey became an award-winning scholar, publishing several books, numerous book chapters and peer-reviewed journal articles. She has spoken at international conferences in over 20 countries. Fynn Bruey is the Founder and Editor-in-Chief of the Journal of Internal Displacement and the co-founder and Executive Director of Tuki-Tumarankeh—a non-profit organization focused on forced migration issues.
Fynn Bruey's areas of research include systematic violence against women, forced migration, public/global health, feminist legal methodology, human rights, indigenous rights, decolonization, critical legal/race and legal studies. She's a lecturer at the University of Cape Coast Faculty of Law in Ghana and also teaches at Seattle University School of Law.
"LSA gave me an unparalleled platform to advocate for the rights of displaced peoples in a broad sense," mentioned Fynn Bruey. "Not just those affected by war but also those, such as, indigenous peoples who have suffered land dispossession as a direct result of colonization."
Fynn Bruey recently published her latest book called Deadly Voyages: Migrant Journeys across the Globe with co-author Steven Bender—a mentor and colleague from Seattle University School of Law. The book explores a familiar topic: the dangers migrants face and proposed laws and policies that could ease this burden.
"I learned about Veronica's story of pain and survival soon after meeting her," said Bender. "She doesn't hide her story, and uses it to fuel the urgency of her work. I am always amazed to realize that somehow, she is often still working when I am ready to end what seems like my own long day. She must sleep in small doses, but she dreams big in those fleeting moments."
Professor Bender will soon be writing a story about Fynn Bruey's journey as part of a new book series called African Lives by Polity Press (Cambridge).
Fynn Bruey already has another book in the pipeline entitled Patriarchy and Gender in Africa. She is also a co-investigator for a project on "Stigma and Leishmaniasis in Ghana," receiving a grant of $350,000 this past July by the Canadian Institute for Health Research. Fynn Bruey continuously strives to make the world a better and safer place in expanding advocacy networks for vulnerable populations, especially displaced peoples.
To learn more about Veronica Fynn Bruey, visit her bio here. To learn more about the Law and Society Association, visit our member portal. To learn more about our Displaced Peoples Collaborative Research Network, click here. To stay up to date with the latest LSA news and updates, follow us on Twitter and Facebook.