Get to Know Swethaa Ballakrishnen!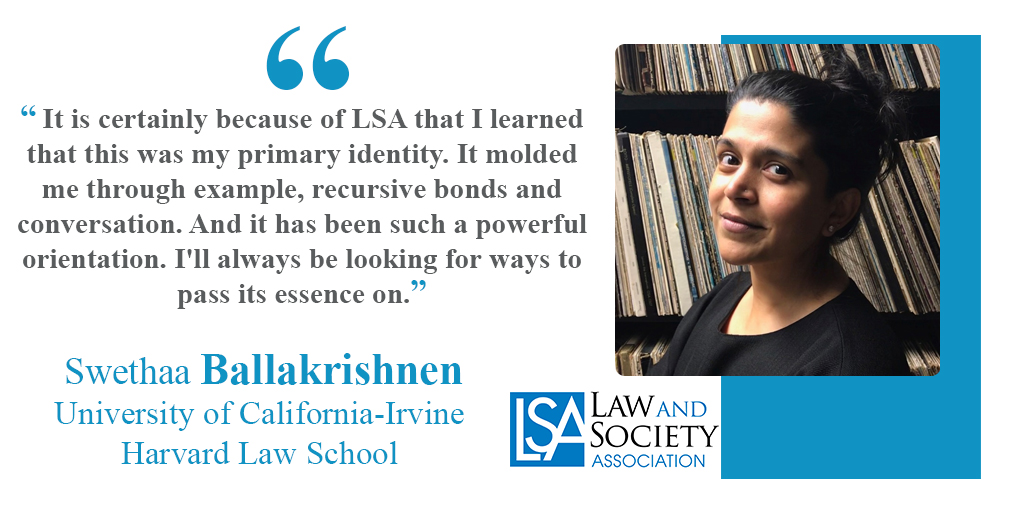 Institution(s):
Assistant Professor of Law, University of California-Irvine School of Law 

Affiliated Faculty, Harvard Law School Center on the Legal Profession
Number of years as LSA member: 11
Number of LSA Meetings Attended: 11
Collaborative Research Networks: CRN 19 Co-Founder – Legal Education
International Research Network: Co-Founder – Invisible Institutionalisms
LSA Committees and governance positions: Class of 2022 LSA Board of Trustees; CRN Coordinating Committee (2019-21)
Favorite Food: Tacos

Areas of Research:
Legal Profession

Globalization
Gender
Global Souths
Legal Organizations and Institutions
Law and Mobility
Stratification
Qualitative and Mixed Methods
Queer and Feminist Legal Theory
Top 3 Articles Published: 
Ballakrishnen, Swethaa S. "Just Like Global Firms: Unintended Gender Parity and Speculative Isomorphism in India's Elite Professions." Law & Society Review 53, no. 1 (2019): 108-140. 

2019 Law and Social Inquiry. A New Minority?: International J.D. students in U.S. Law Schools (with Carole Silver) Ballakrishnen, Swethaa, Priya Fielding-Singh, and Devon Magliozzi. "Intentional Invisibility: Professional Women and the Navigation of Workplace Constraints." Sociological Perspectives 62, no. 1 (2019): 23-41.
https://journals.sagepub.com/doi/10.1177/0731121418782185  (feat. in) Harvard Business Review   "Why Women Stay Out of the Spotlight At Work." https://hbr.org/2018/08/sgc-8-28-why-women-stay-out-of-the-spotlight-at-work  (Aug 28, 2018)