The Law and Society Association honors 21 scholars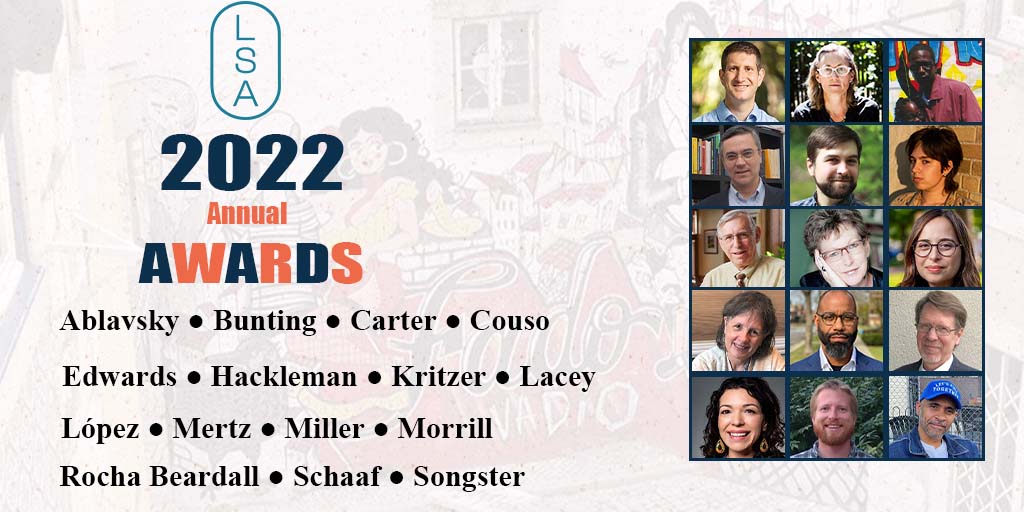 AMHERST, Mass. – The Law and Society Association in coordination with the Executive Office, Prize Committees and President Laura Beth Nielsen, honors the winners of its 2022 Annual Awards, as 21 law and society scholars took home prizes this June. Each year, the LSA recognizes outstanding scholarly publications and contributions to the law and society community. This year, the Association will honor the award recipients during the first-ever hybrid Global Meeting on Law & Society, which will take place both in Lisbon, Portugal and virtually from July 13-16. This year's conference features over 4,500 attendees, representing nearly 100 different countries, making it the largest Global Meeting to date.
The Award Ceremony will take place in Lisbon at the host institution (ISCTE University Institute of Lisbon) in Building II Grande Auditório at 10:15 a.m. (Lisbon Time) on Friday, July 15. The ceremony will also be streamed live to the 2022 virtual conference website and may be available on-demand afterwards. Attendees who plan on watching the ceremony virtually will need to login to their LSA profiles to access the video. To view more information about each of the winners, visit the LSA Awards Page here.
"Congratulations to this year's award winners for their creative and pathbreaking scholarship," said President Nielsen. "These prizes highlight the significant work of our members and demonstrate the importance of interdisciplinary empirical work to fully understand the relationship between law and society."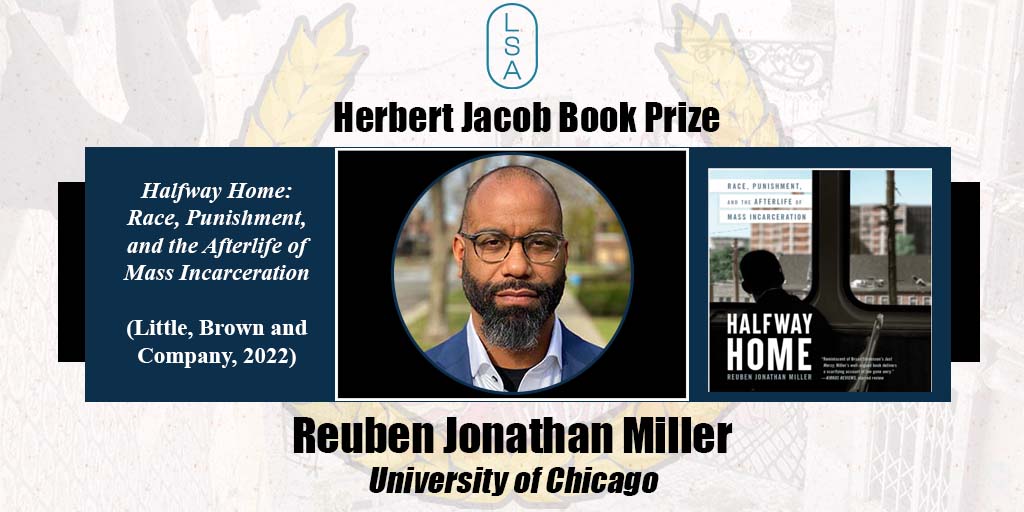 Taking home the Herbert Jacob Book Prize for new, outstanding work in law and society scholarship was Reuben Jonathan Miller of the University of Chicago and the American Bar Foundation. His book, Halfway Home: Race, Punishment, and the Afterlife of Mass Incarceration (Little, Brown and Company, 2022) is a trenchant analysis of the long shadow of the criminal legal system in America. It provides an account of the afterlife of imprisonment and captures the stories of the men, women and communities fighting against a system that is designed for them to fail. In addition to his personal family experience, Miller draws on his involvement as a volunteer chaplain at Chicago's Cook county jail. His book discusses interviews and observations he had with incarcerated and formerly incarcerated people and their loved ones to paint a moving portrait of the enduring effects of incarceration, long after individuals are physically released from prison.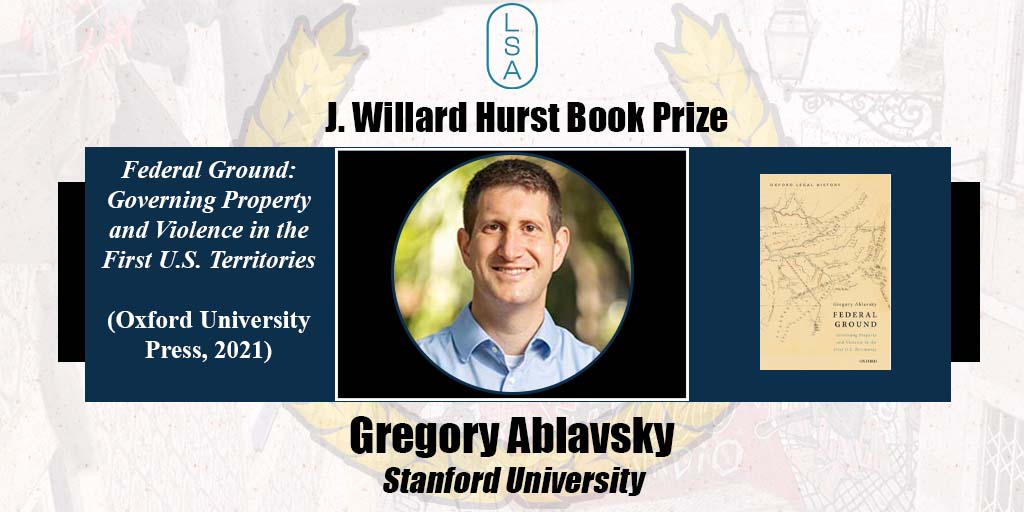 Gregory Ablavsky (Stanford University) earned the J. Willard Hurst Book Prize for this year's best sociolegal history book. Ablavsky's book, Federal Ground: Governing Property and Violence in the First U.S. Territories (Oxford University Press, 2021), explains the growth of federal authority in the first two U.S. federal territories—the Northwest and Southwest. While the Washington administration, Congress, federal officials, land office administrators and other federal bureaucrats sought to assert their vision of federal power over the West, the land they sought to govern and transform was far from empty. His book addresses the underlying questions of what federal power is and who its architects are. The book further identifies how the federal government can be studied—not as a monolith, but as the outcome of many different struggles playing out at grass-roots levels.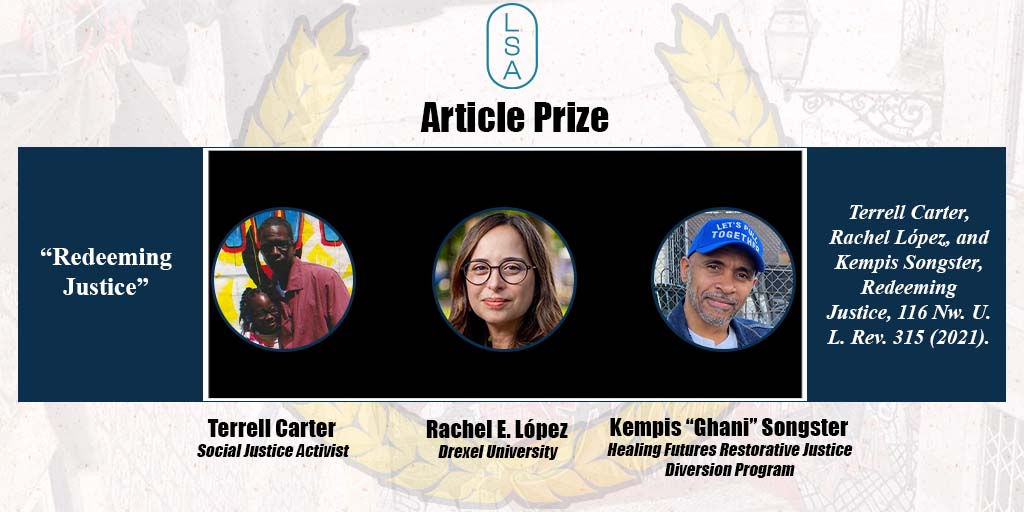 The LSA Article Prize was awarded to Terrell Carter, Rachel López & Kempis "Ghani" Songster for their article, "Redeeming Justice," which appeared in the Northwestern University Law Review in 2021. The article explores life sentences without parole (LWOP) through the lens of a legal right to redemption, arguing that this right is embedded in the Eighth Amendment through the concept of human dignity. The article is a collaboration between human rights scholar, Professor López, and social justice activists, Carter—who is currently on his 29th year of a LWOP prison sentence—and Songster, who was sentenced to LWOP as a juvenile and served 30 years in prison before being resentenced and released pursuant to the Supreme Court's decision in Miller v. Alabama. "Redeeming Justice" analyzes both the legal contradictions and the human toll of LWOP sentences and foregrounds voices that are frequently marginalized, not just in society, but in scholarship as well.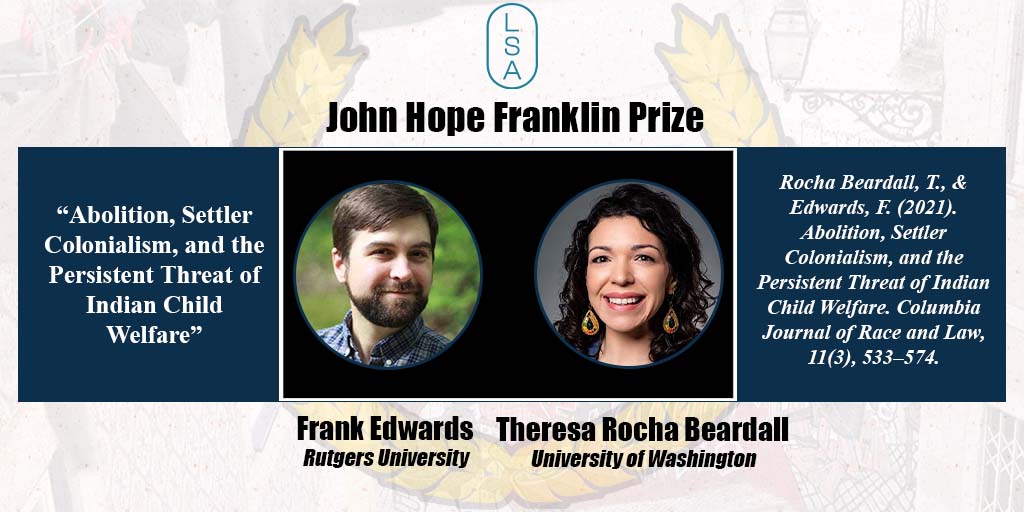 Earning the John Hope Franklin Prize, which was established in 2010 to recognize exceptional scholarship in the field of Race, Racism and the Law, was sociology professors Theresa Rocha Beardall (University of Washington) and Frank R. Edwards (Rutgers University). Their paper, "Abolition, Settler Colonialism, and the Persistent Threat of Indian Child Welfare," is an empirical study of forced separation of Native children and the failed legacy of the landmark Indian Child Welfare Act of 1978 (ICWA). Drawing on theories of settler colonialism, the authors skillfully illuminate the legal separation of Native children as a perniciously ongoing racial project of a white supremacist settler-state.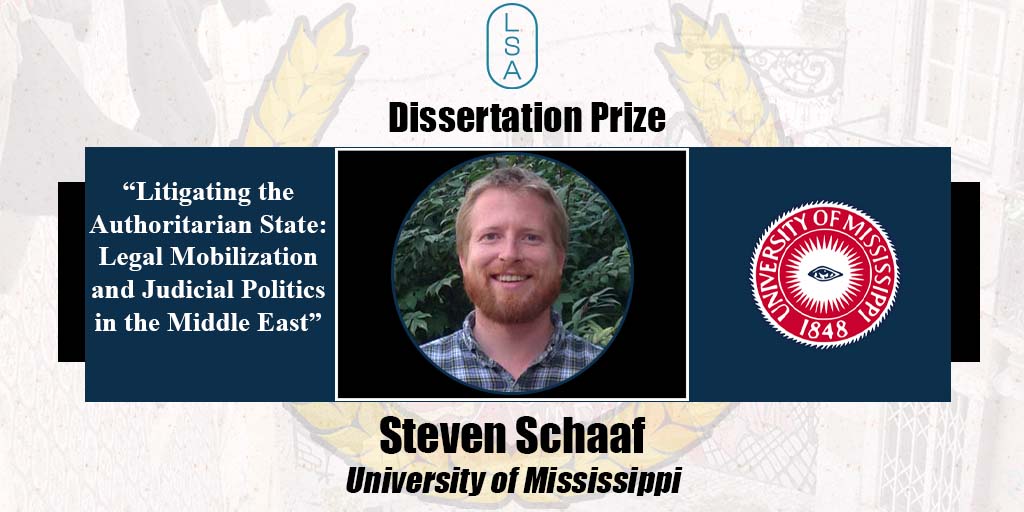 This year's Dissertation Prize went to Steven Schaaf of the University of Mississippi. His dissertation, "Litigating the Authoritarian State: Legal Mobilization and Judicial Politics in the Middle East," uses a theory of "lawful resistance" to explain when, how and to what effect citizens access legal institutions and seek to hold authoritarian states accountable to the rule of law. The dissertation offers an impressive mixed-methods study of lawful resistance that includes multiple novel data sources, and it provides several theoretical contributions to the literature. It takes on an important and timely topic about why and how people mobilize the law to resist authoritarian states. Schaaf's dissertation advances the argument with wide-ranging implications for studies of courts and judicial politics that go well-beyond the study and the discipline in which it is situated.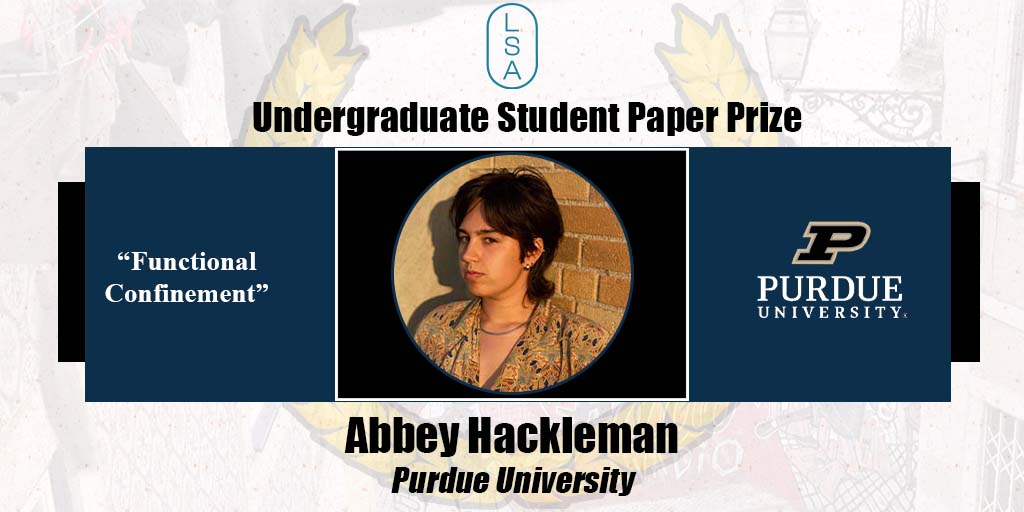 Abbey Hackleman (Purdue University) won the award for the best Undergraduate Student Paper. Hackleman's paper, "Functional Confinement," takes readers through a sociolegal analysis of two major transitions in mental health policy in the United States to show that deinstitutionalization and mass incarceration are co-constituted. First, Hacklman summarizes the transition from the neglect of those with mental illness in prisons and almshouses at the turn of the 19th century to open psychiatric hospitals. Detailing the mistreatment in these hospitals and the profound restrictions on civil liberties, Hackleman goes on to analyze the closing of these institutions in conjunction with U.S. President Lyndon B. Johnson's "war on crime" starting in 1963.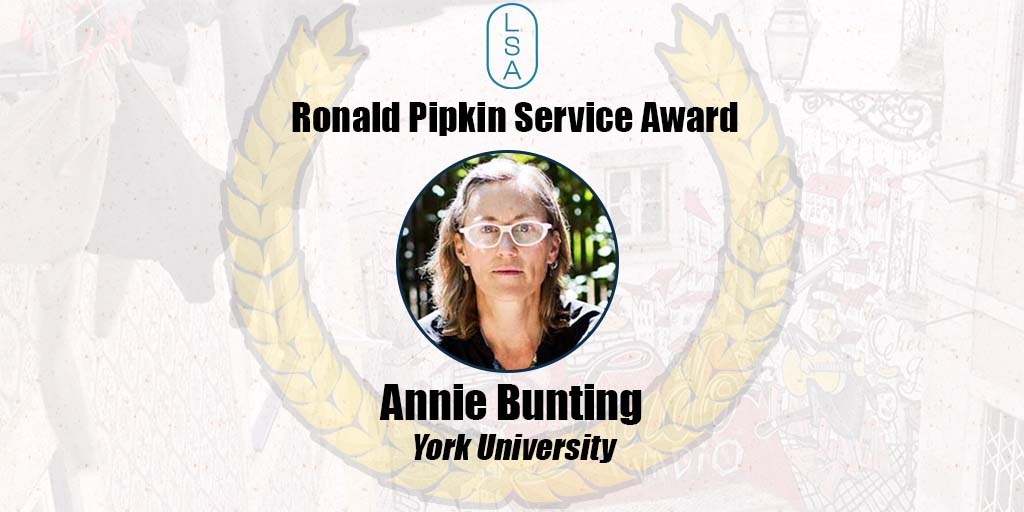 Annie Bunting (York University) and Javier A. Couso (Universidad Diego Portales & Utrecht University) were chosen for the 2022 Ronald Pipkin Service Award, which recognizes sustained and extraordinary service to the Association. Over the course of her career, Professor Bunting's service to LSA has been nothing less than extraordinary. She was elected to the Board of Trustees in 2013. In addition to helping steer LSA through difficult times of administrative transition, she has served tirelessly on many committees, championing the leadership and participation of women and minority scholars within the Association. She also served as Chair of the Local Arrangements Committee for the 2018 joint meeting of LSA and the Canadian Law and Society Association.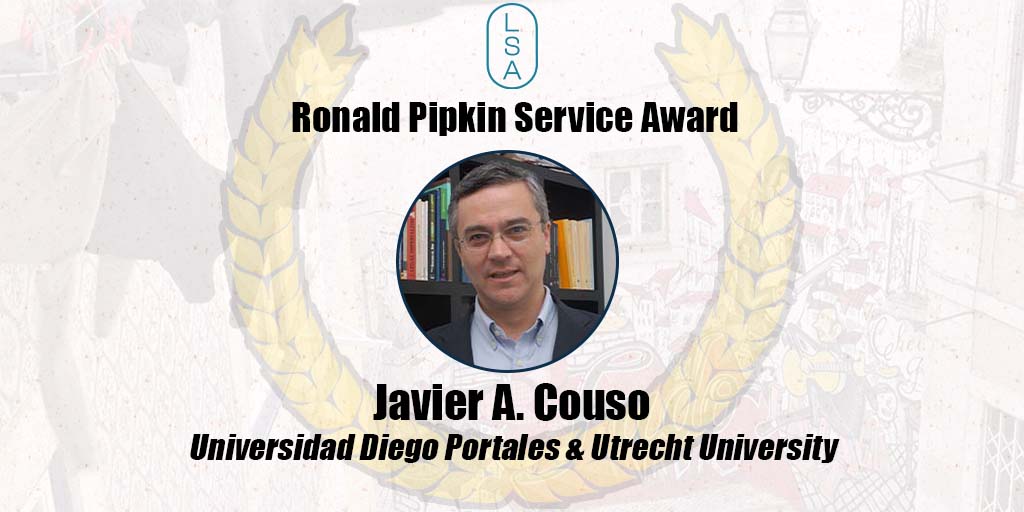 Professor Couso has been a leading LSA member, working for many years to promote international scholars and the global field of sociolegal scholarship more generally. He has served on numerous committees, including the International Activities Committee (2003, 2004, 2005 and 2006), the Graduate Student Workshop Committee, Nominating Committee, CRN Committee and the Program Committee for several years. Professor Couso was an LSA Board of Trustees member and also served on the executive committee of the International Association of Constitutional Law.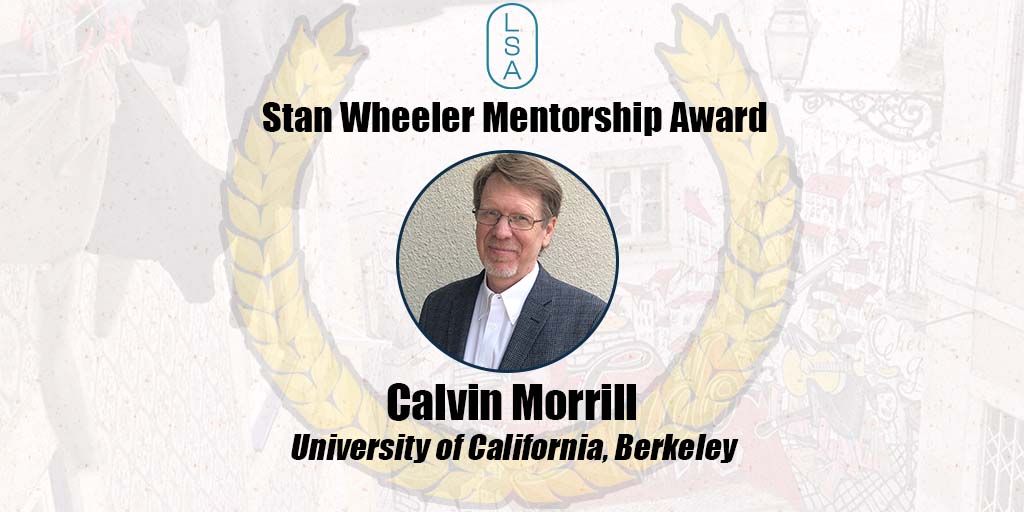 The Stan Wheeler Mentorship Award also had two winners this year with Calvin Morrill (University of California, Berkeley) and Elizabeth Mertz (American Bar Foundation & University of Wisconsin) taking home the honors. Having long been an institutional leader in graduate sociolegal studies, Professor Morrill has served on an astounding 44 PhD committees and chaired over half of them. Many of the PhDs he has supervised have co-authored publications with him and have gone on to become leading researchers, teachers and public intellectuals affiliated with LSA. He is known for his advice in helping students to overcome the familiar "imposter's syndrome" and to gain confidence to move forward.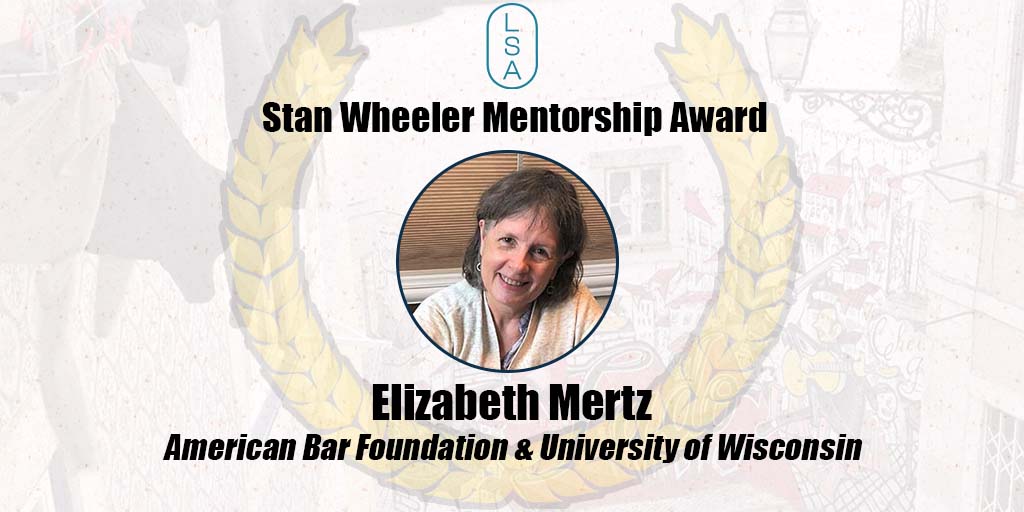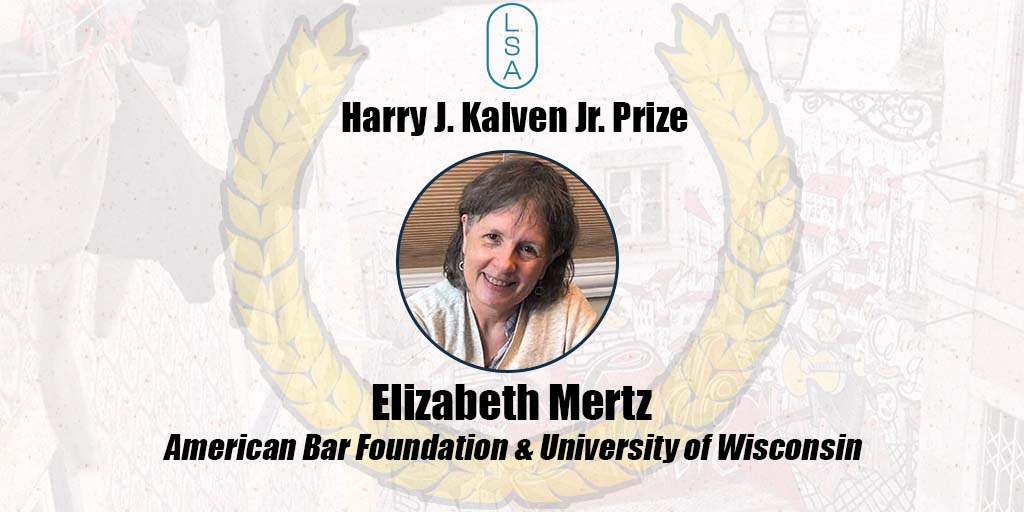 Professor Mertz was the recipient of two LSA awards this year, as she additionally earned the Harry J. Kalven, Jr. Prize for empirical scholarship and the advancement of research in law. She has distinguished herself by mentoring a long line of students working on a multitude of degrees at several universities, along with a host of post-doctoral fellows and visiting scholars at the American Bar Foundation. Notably, she has championed the contributions of women, Black, Indigenous and scholars of color, while maintaining a vigorous agenda of her own award-winning scholarship. It's been noted that she has often gone out of her way to include junior scholars in projects and opportunities that would have otherwise been unavailable to them. All these efforts won her the Association for Women Lawyers Mentoring Award in 2016 as well as the Doris Slesinger Award for Excellence in Mentoring at the University of Wisconsin.
Professor Mertz is also a leader of the innovative New Legal Realism project and associated Collaborative Research Network (CRN), which has profoundly reshaped interdisciplinary sociolegal research and influenced increasing numbers of scholars at all levels, including students. This initiative has produced edited volumes and symposia and has created a wonderful sociolegal community. She also has generated a number of large grants aiming to fund research and support creative law school education. In 2008, she won the LSA's Herbert Jacob Book Prize for her book, The Language of Law School: Learning to "Think Like a Lawyer" (Oxford University Press, 2007), which drew national attention to problems of privilege in legal pedagogy. Her research also examines the challenges that attend interdisciplinary translation, as well as the unique opportunities that lie in using social science to inform and improve legal processes. She has served as Editor of Law & Social Inquiry and the Political and Legal Anthropology Review.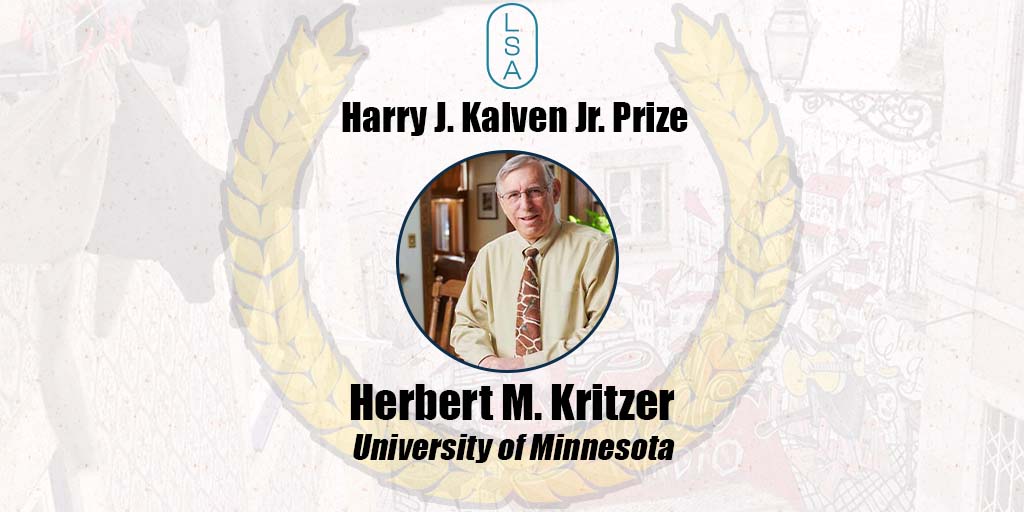 Joining Professor Mertz in earning this year's Harry J. Kalven, Jr. Prize was Herbert M. Kritzer (University of Minnesota)—marking the second-straight year a scholar from UMN was awarded this honor. Originally trained as a political scientist, Professor Kritzer is author, coauthor or coeditor of 12 books and over 100 research articles. He also served as general editor of a remarkable resource for comparative and international study—the four-volume encyclopedia, Legal Systems of the World, which includes detailed overviews of legal topics and summaries of the diverse legal systems of the world's countries. Professor Kritzer was a 2019 LSA Legacy Prize winner, a 2015 Ronald Pipkin Service Award winner and served as editor for the Association's Law & Society Review journal from 2004-2007.
Early in his professional life, Professor Kritzer brought his empirical research strengths to issues that he has continued to examine throughout his career: civil litigation, the work of lawyers, judicial selection and the role of politics in law. His award-winning scholarship and writing on judicial selection, including important studies of the elections of state supreme court justices and systematic analyses of other judicial selection approaches, have underscored the ubiquitous and powerful role of politics in determining who will decide legal disputes in the nation's courts. His abundant research has guided so many other sociolegal scholars embarking on empirical study of law.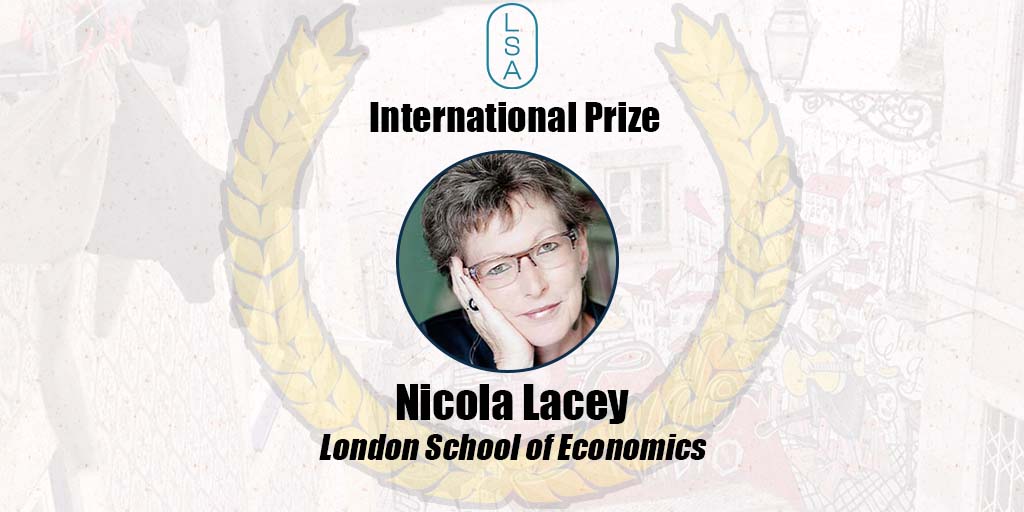 This year's International Prize was awarded to Nicola Lacey of the London School of Economics. Professor Lacey transformed the fields of critical criminology and penology and opened up new areas of inquiry and advocacy for reforming criminal justice systems around the globe. Her work has advanced sociolegal scholarship in these key areas. Professor Lacey has also made significant contributions to feminist legal-thought and has written/co-edited 11 books.
Congrats to all of the LSA 2022 Honorable Mention selections!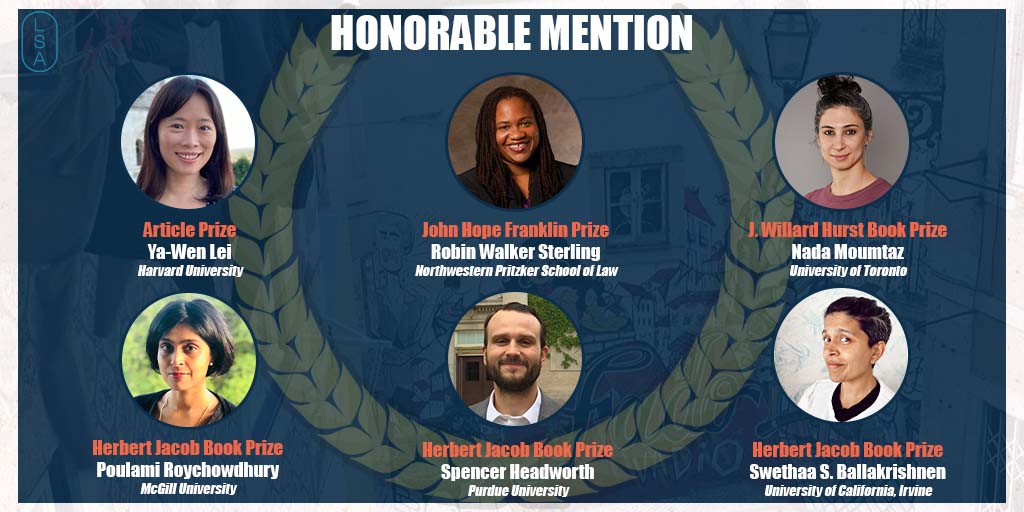 This year's Global Meeting kicks off at 8:15 a.m. (Lisbon Time) on Wednesday, July 13. The conference will feature nearly 1,000 engaging sessions. Visit the conference webpage to learn more about the meeting.
2022 LSA AWARDS
Law and Society Association Article Prize
Terrell Carter | Social Justice Activist
Rachel E. López | Drexel University
Kempis "Ghani" Songster | Healing Futures Restorative Justice Diversion Program
Honorable Mention – Ya-Wen Lei | Harvard University
Dissertation Prize
Steven Schaaf | University of Mississippi
John Hope Franklin Prize
Frank Edwards | Rutgers University
Theresa Rocha Beardall | University of Washington
Honorable Mention – Robin Walker Sterling | Northwestern Pritzker School of Law
J. Willard Hurst Book Prize
Gregory Ablavsky | Stanford University
Honorable Mention – Nada Moumtaz | University of Toronto
Law and Society Association International Prize
Nicola Lacey | London School of Economics
Herbert Jacob Book Prize
Reuben Jonathan Miller | University of Chicago & the American Bar Foundation
Honorable Mention – Poulami Roychowdhury | McGill University
Honorable Mention – Spencer Headworth | Purdue University
Honorable Mention – Swethaa S. Ballakrishnen | University of California, Irvine
Harry J. Kalven Jr. Prize
Herbert M. Kritzer | University of Minnesota
Elizabeth Mertz | American Bar Foundation & University of Wisconsin
Ronald Pipkin Service Award
Annie Bunting | York University
Javier A. Couso | Universidad Diego Portales & Utrecht University
Undergraduate Student Paper Prize
Abbey Hackleman | Purdue University
Stan Wheeler Mentorship Award
Calvin Morrill | University of California, Berkeley
Elizabeth Mertz | American Bar Foundation & University of Wisconsin
###