Standards of fatherhood, financial success and emotional involvement with children could make a difference when immigration judges use their discretion to determine which immigrants qualify for relief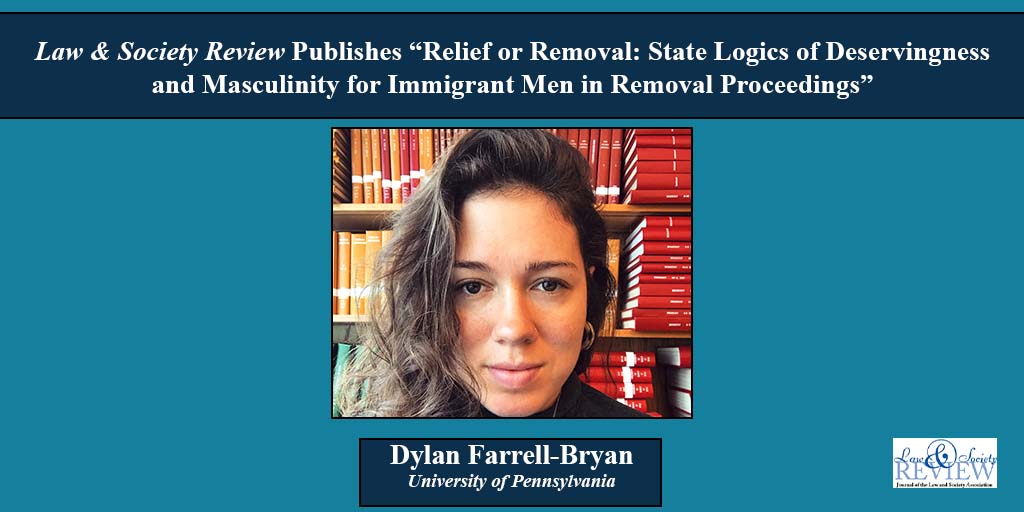 AMHERST, Mass. – Publishing her first solo-authored article in the latest Law & Society Review issue, Ph.D. student Dylan Farrell-Bryan (University of Pennsylvania) provides insight into how judges in immigration courts use a politicized discourse of masculinity to justify legalization for immigrant men through their relational ties to U.S. citizens. Farrell-Bryan's article, "Relief or Removal: State Logics of Deservingness and Masculinity for Immigrant Men in Removal Proceedings," develops a conceptual framework of 'relational masculinity,' in which judges evaluate men as economic providers, emotionally involved parents and/or partners in traditional family arrangements, raising culturally-integrated Americans to determine their deservingness to remain in the country.
Farrell-Bryan's study takes readers directly inside immigration courtrooms of the Northeast and explicitly navigates through the fine details of full removal hearings she sat in on and observed. Her article consists of ethnographic observations within these court proceedings and judicial decisions, in which she experienced 60 master calendar hearings and 44 non-detained individual merits hearings from 2016-2018. Farrell-Bryan was able to ask informal questions to the judge and attorneys, gaining exclusive insight into these cases.
Farrell-Bryan, who studies sociology at UPenn, examines the functioning of immigration law on the ground, with particular attention to how changes in enforcement, labor conditions and decision-making have remapped the immigration court process in the U.S. In her article, she constructs an overview of the Cancellation of Removal for Non-Lawful Permanent Residents process and describes how it offers a compelling and unique opportunity to see the discretionary logics that the state uses to justify legalization and removal by examining good moral character and hardship.
"In recent years, there has been an unprecedented rise in the number of immigrants, predominantly men of color, facing removal from the United States—many of whom make a case for their right to be granted relief from removal and stay in the country," said Farrell-Bryan. "I argue that adherence to these gendered and racialized norms plays a key role in determining migrants' deservingness and membership, with important implications for how the state actively manages immigrant masculinity and bolsters caregiving support for U.S. citizens, alongside heightened criminalization."
Coinciding with this rise in immigrants, there has been a pervasive shift in the social and political perception of immigrant men of color, viewed by the state as a dangerous threat to the nation—embodied by terrorists, gang members and criminal aliens. Standards of fatherhood, financial success and emotional involvement with children are crucial components of how judges use their discretion to determine which immigrants qualify for relief, sometimes even reshaping their moral judgement of migrants.
Taking hand-written field notes during these hearings, she produced more than 150 typed single-spaced pages and paid increasing attention to how immigration judges constructed narratives around deservingness, gender and family ties in Cancellation hearings. She used this data to organize and clarify the categories of deservingness within the cases.
Farrell-Bryan compares the results of her observed sample to a data set of non-lawfully permanent residents (LPR) Cancellation of Removal cases in the Northeast during her study period. Within her sample, she found that "45 percent of Cancellation cases resulted in a grant of relief, 22 percent of decisions were withheld or delayed and 32 percent of cases resulted in removal, compared to the full dataset, in which 76 percent of applications ended in relief, three percent ended in termination or other administrative closure and 21 percent in removal."
"The state sanctioning of gendered behavior lends support to a version of masculinity that is gentle, emotionally involved and responsible," Farrell-Bryan noted in the study. "Judges actively rewarded men who showed that they were involved parents and partners, and that they took part in household chores, childcare and were emotionally connected with their children and partners, suggesting that immigration judges view immigrant masculinity through the relational lens of involved parenting and partnership. In these cases, the judicial decision indicated that emotional involvement in the family is key to decisions to stay."
When judges are faced with the question of deporting or legalizing immigrant men in the U.S., the state accepts a narrowly defined version of immigrant masculinity. Those who can demonstrate that they are the financial breadwinners, encourage traditional American values and foster upward social mobility possess a major advantage in convincing immigration judges that they are worthy of relief. Farrell-Bryan argues that by using this criteria to determine the deservingness of immigrant men to be welcomed into the country, it actively produces and rewards narratives of cultural hegemony, which may exclude those who do not fit into these normative, traditional and patriarchal roles—particularly in other non-conventional family forms or same-sex relationships.
Volume 56, Issue 2 is available online here. It includes six articles and several book reviews. To read this full LSR article, visit the Wiley Online Library here.
###