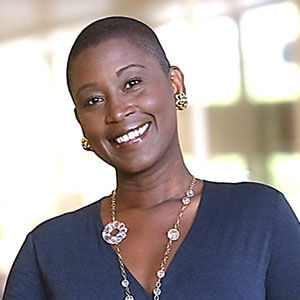 Long-standing Law and Society Association member Dr. Michele Bratcher Goodwin will receive the Marcy Syms Leader for Gender Equality Award at the Women's eNews 21 Leaders for the 21st Century gala in November, as announced by the organization earlier this month. She will be honored alongside 20 other "21 Leaders for the 21st Century" award recipients. The event will take place virtually on Tuesday, November 16th, at 8 p.m. ET. Go here to learn more about the gala.
Dr. Goodwin currently serves as Chancellor's Professor of Law at the University of California, Irvine with appointments at the School of Law, Program in Public Health, department of Criminology, Law, & Society, Department of Gender and Sexuality Studies and Center for Psychology and Law. She is also the founder and director of the Center for Biotechnology and Global Health Policy at UC Irvine School of Law and its internationally-acclaimed Reproductive Justice Initiative. An award-winning author, she has written/edited six books and published hundreds of law review articles, book chapters and commentaries. Professor Goodwin frequently makes appearances in mass media outlets from around the country, including the New York Times, LA Times, Politico, ABC News and Forbes to name a few.
In 2020, Dr. Goodwin was an Honorable Mention selection for the LSA John Hope Franklin Prize, which recognizes exceptional scholarship in the field of Race, Racism and the Law. She has advised or given testimony before state and federal governments, and her writings have been consulted by courts, legislators, government agencies and civil society organizations. Goodwin is an LSA CRN organizer for Biotechnology, Bioethics and the Law (CRN 29). She will also serve as co-Chair of the 2022 Global Meeting on Law & Society in Lisbon, Portugal next summer.
Women's eNews is an award-winning nonprofit news service covering issues of particular concern to women and providing women's perspectives on public policy. Click here to learn more about the organization.