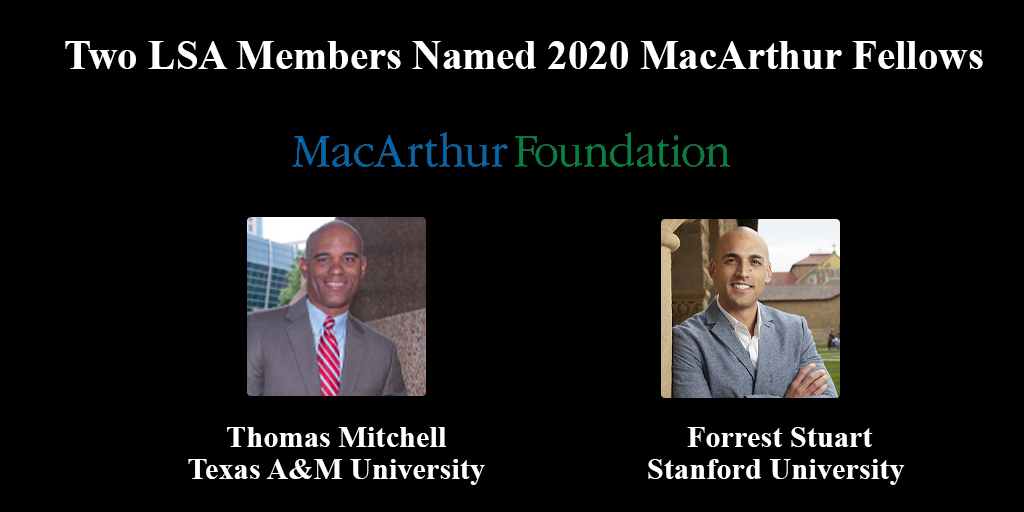 AMHERST, Mass. – Two LSA members were named 2020 MacArthur Fellows, as announced by the John D. and Catherine T. MacArthur Foundation this afternoon. Thomas W. Mitchell of Texas A&M University's School of Law and Forrest Stuart of Stanford University's School of Humanities and Sciences each earned the honor.
From writers and musicians to entrepreneurs and social scientists, the MacArthur Foundation awards talented individuals who have shown extraordinary originality and dedication in their creative pursuits and a marked capacity for self-direction. Ultimately, this honorable achievement helps progress its fellows' creativity and research for the benefit of human society.
A Property Law Scholar, Mitchell's work involves researching rural and urban property loss issues and the legal mechanisms that sustain and facilitate this phenomenon across the country. Mitchell has devoted his life to mitigating these issues, which have disproportionately affected poor and minority communities nationwide. His Uniform Partition of Heirs Property Act (UPHPA) has been pushed through he floor of the legislature in 17 states and the U.S. Virgin Islands. The LSA recently wrote a feature story on Mitchell called "Defying Great Odds – Mitigating Property Loss Through Historic Partition Law Reform in the U.S." To read it, click here.
Stuart, a sociologist and urban ethnographer, uses fieldwork, archival, and other qualitative methods to investigate the causes, contours, and consequences of urban poverty. His work has challenged long-held assumptions about the forces that shape urban poverty and violence. Stuart's research brings to light the the lived reality of those who experience this phenomenon. To learn more about his books and research, check out his website here.
The full list of 2020 MacArthur Fellows can be found on their website here. The MacArthur Foundation prepared videos for each of this year's fellows. Both Mitchell's and Stuart's video can be found linked below.
MacArthur Foundation's video about Thomas Mitchell: https://youtu.be/4rpDi1b06xE
MacArthur Foundation's video about Forrest Stuart: https://youtu.be/cVC9sJNUswI