Get to Know Angela Onwuachi-Willig!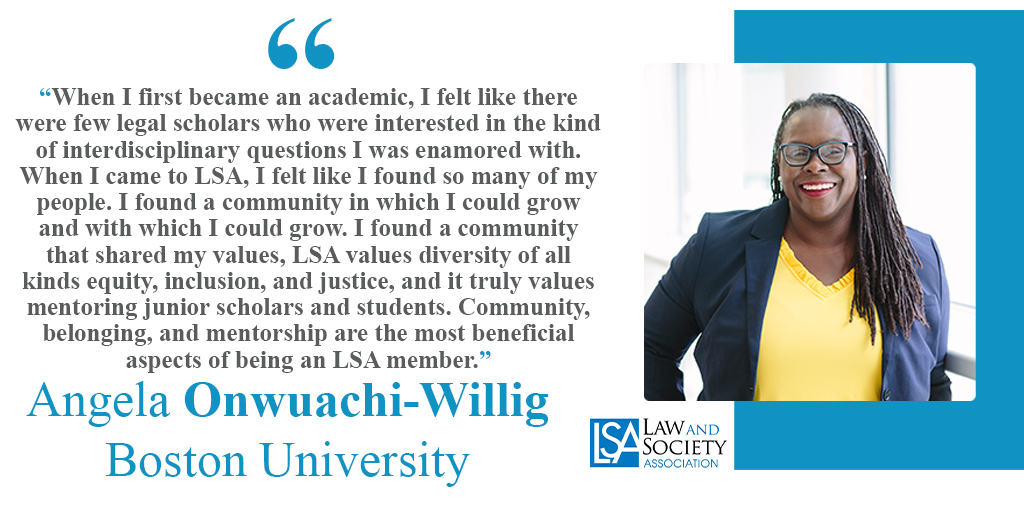 Institution:
Boston University School of Law
Number of years as LSA member: 7
Number of LSA Meetings Attended: 9
LSA Governance Position(s) and Committees:
Inaugural Law and Society Prize Committee for the John Hope Franklin Prize on Race, Racism and the Law (Summer 2010-Spring 2011)
LSA Board of Trustees (Class of 2021)
Areas of Research:
Critical Race Theory
Cultural Trauma
Anti-discrimination law
Families and Family Law
Favorite Topics to Teach or Research:
Employment Discrimination
Critical Race Theory
Notable Awards:
Association of American Law Schools (AALS) Clyde Ferguson Award (2015)
AALS Derrick Bell Award (2006)
Gertrude Rush Award (2016) from the Iowa Organization of Women Attorneys and the Iowa Chapter of the National Bar Association
Law and Society's John Hope Franklin, Jr., Prize (2018)
William H. Neukom Fellows Research Chair in Diversity and Law at the American Bar Foundation (17-18)
Unique Facts:
"I am a big fan of the show 'Survivor.' I have seen every season, but the first one."
Angela has been proactive in calling attention to racism in higher education and beyond. As Dean of Boston University's School of Law, she posted a remarkable open letter to her students in June, 2020, amidst the death of George Floyd and police brutality. She has since had numerous media appearances (Listed Below) on the topics of seeking racial justice and equality. 
Top Books/Articles Published: 
Recent Media Appearances: 
To learn more about Angela, check out her Boston University bio here .