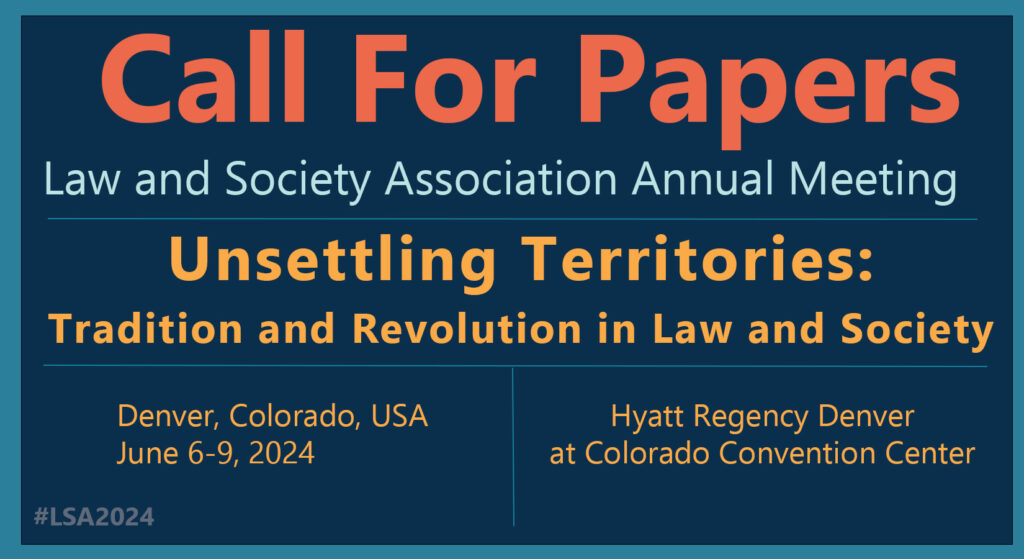 Submissions are now open for the 2024 LSA Annual Meeting
Click Here to visit the Submissions Site! | Click Here to Visit the Annual Meeting website!
---
We are pleased to invite you to participate in the 2024 Law and Society Annual Meeting that will take place in Denver, Colorado from June 6-9, 2024! The meeting will be hosted at Hyatt Regency Denver at Colorado Convention Center. 
Upon submitting an abstract, you will be required to create an LSA profile or login to your existing LSA account. For those who already have an LSA profile in the system, a separate Call for Papers email was sent to you as well with your Username and Email address we have on file. All scholars who need to create an LSA profile to participate in the Global Meeting can do so for free by selecting one of the non-member profile options on this page:
https://lawandsociety.site-ym.com/general/register_member_type.asp?
The deadline for our Call for Submissions
is
October 24, 2023 at 5:00
 p.m. ET (USA and Canada). The Program Committee welcomes any scholar studying sociolegal activities to submit an individual paper or session proposal. We recommend scholars interested in proposing a session with a creative format to consult with the Program Committee and the LSA Executive Office (
melissak@umass.edu
) in advance of submitting their proposal. 
---
Unsettling Territories: Tradition and Revolution in Law and Society
For our 60th anniversary meeting, LSA returns to Colorado, a place at the center of Indigenous dispossession and resistance, environmental disruption, and political change.  We invite participants to use this place and this moment as an opportunity to examine law's role in settling territories of many kinds, and the potential the tools of law and society offer for unsettling them.
---
How to Submit
Click here to submit an abstract for an individual and/or a session for our 2024 Annual Meeting! You will need to login to your LSA profile first using your username and password. For convenience, the username and email address we have on file for you is listed below. If you need to reset your password, go here. 
If you have not yet created an LSA profile, you can set one up for free by selecting one of our non-member or student non-member options here. If you would like to become an LSA member, 2024 memberships will be opening this fall.
Submission Site Homepage: https://ww3.aievolution.com/lsa2401/
Link to Membership Portal: https://lawandsociety.site-ym.com/