7 LSA Members Earned Honors

AMHERST, Mass. – Seven LSA members were honored by the Association of American Law Schools (AALS), earning 2022 section awards for excellence in legal education, as announced by the organization this winter. The award winners were recognized during an online awards ceremony at the 2022 AALS Annual Meeting on January 5. The LSA members who took home awards are listed in a graphic below.
Each year, AALS awards accolades to outstanding individuals, programs and organizations for excellence in legal education. The awards are hosted by several sections of the association, organized around various academic disciplines and topics of interest. To view the full list of 2022 AALS Section winners, please go here.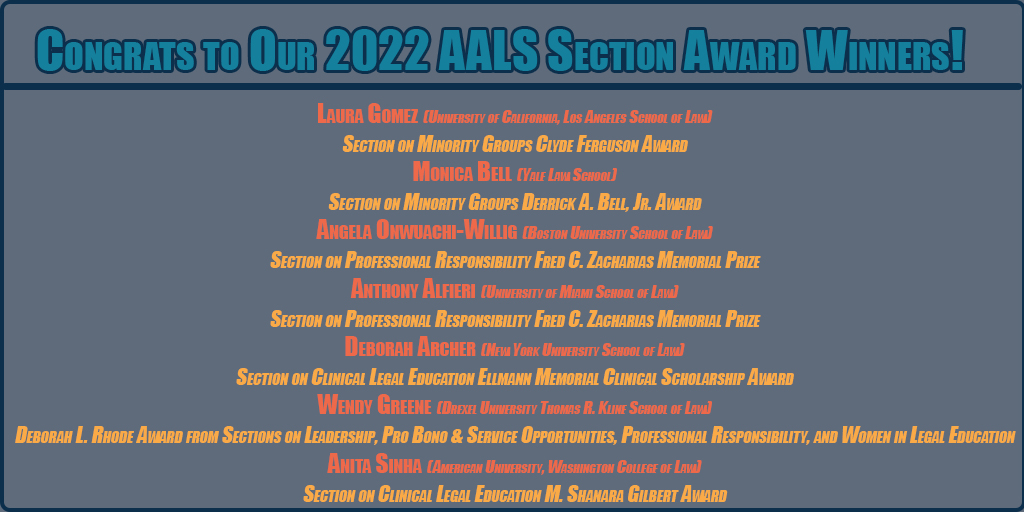 Founded in 1900, the mission of AALS is to uphold and advance excellence in legal education. AALS promotes the core values of excellence in teaching and scholarship, academic freedom, and diversity, including diversity of backgrounds and viewpoints, while seeking to improve the legal profession, to foster justice, and to serve its many communities–local, national and international. The Association consists of nearly 200 law schools, which enroll most of the nation's law students and produce the majority of the country's lawyers and judges, as well as many of its lawmakers. To learn more, go here.
###