Get to Know Michael Gibson-Light!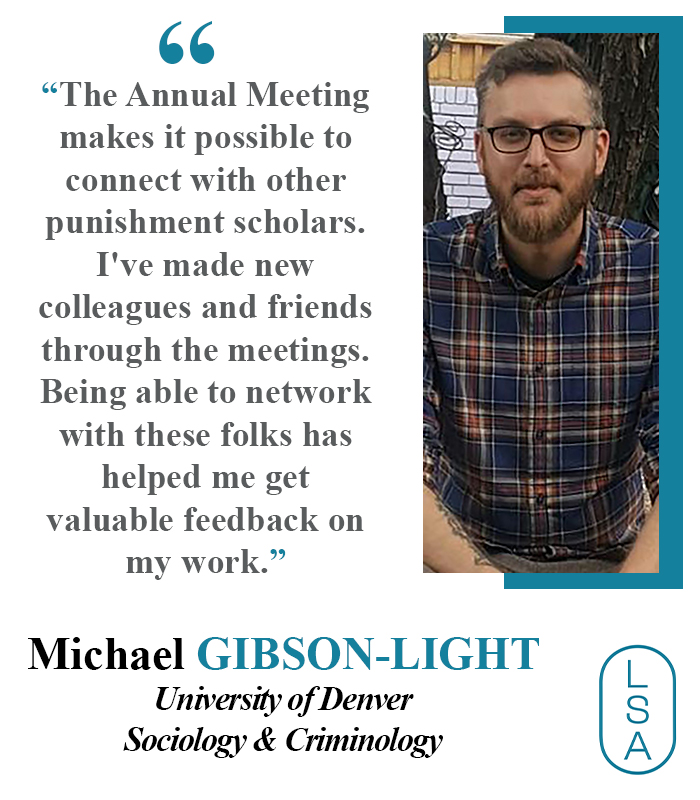 Institution: University of Denver | Sociology & Criminology
Number of years as LSA member: 4
Number of LSA Meetings Attended: 3
LSA Collaborative Research Network (CRN) Affiliation:
Areas of Research:
Punishment & society
"Professor Gibson-Light is an ethnographer whose research explores various intersections of punishment, work, culture, and the economy."
Favorite Topics to Teach or Research:
Prison Labor
Punishment & Society
Unique Fact:
"I recently designed and drew a card game called Dead Theorists, in which players play as the ghosts of Foucault, Du Bois, De Beauvoir, or Marx, competing to train one last protégé. It should be released soon by Microcosm Publishing."
Notable Awards:
Top Articles Published:
Gibson-Light, Michael. 2018. "Ramen Politics: Informal Money and Logics of Resistance in the Contemporary American Prison." Qualitative Sociology 41(2):199-220.
Gibson-Light, Michael. 2020. "Sandpiles of Dignity: Labor Status and Boundary-Making in the Contemporary American Prison." Russell Sage Journal of the Social Sciences 6(1):198-216.
Gibson-Light, Michael and Josh Seim. 2020. "Punishing Fieldwork: Penal Domination and Prison Ethnography." Journal of Contemporary Ethnography (49)5:666-690.
Media Appearances:
Professor Gibson-Light has participated in numerous mass media news interviews and received press coverage from The Guardian, USA Today, Washington Post, BBC, NPR, Time, The Atlantic, Fortune, US News & World Report, The Associated Press, Vice, Telegraph, El Mundo, and over 100 other news sources internationally.
His research was referenced on Brooklyn Nine-Nine and as an answer on Ellen's Game of Games in 2019. View more details about his media appearances in his CV here.
Learn more about Professor Gibson-Light, his media appearances, awards and publications by viewing his bio, here.