The event will take place on June 2 on Zoom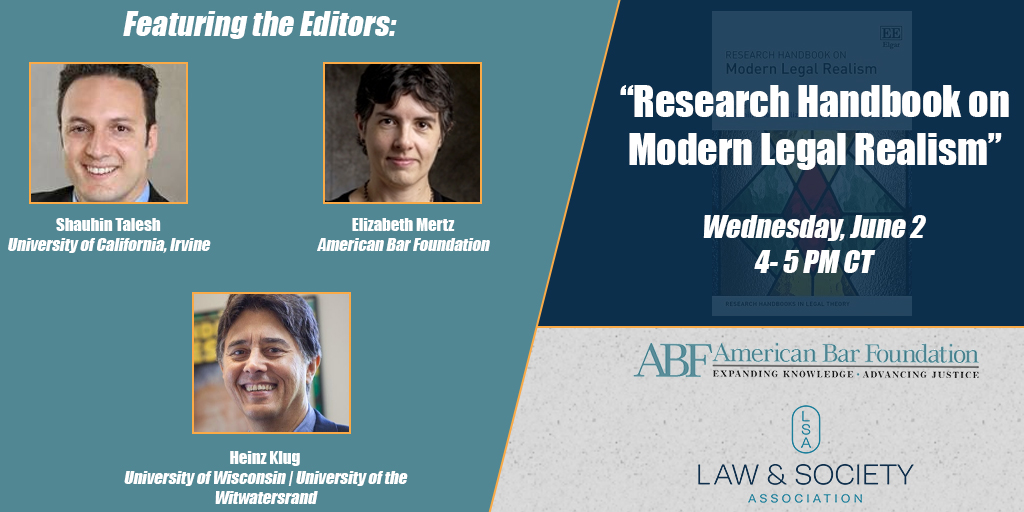 AMHERST, Mass. – Join the American Bar Foundation (ABF) & LSA, as we celebrate the launch of the Research Handbook on Modern Legal Realism, edited by Shauhin Talesh, Elizabeth Mertz, and Heinz Klug. This book launch event will be hosted virtually on Zoom on Wednesday, June 2 from 4-5 p.m. CT. Registration is required!
About the Book

The Research Handbook on Modern Legal Realism provides a definitive overview of the New Legal Realism (NLR) movement, reaching beyond historical and national boundaries to form new conversations. Drawing on deep roots within the law-and-society tradition, it demonstrates the powerful virtues of its "broad tent" interdisciplinary approach and of its systematic attention to the challenges of translation between social science and law. In a striking contrast with the current Empirical Legal Studies movement, the chapters in this volume employ a variety of theoretically grounded social science methods to understand law and address legal problems. They explore an impressive range of contemporary issues including immigration, policing, globalization, legal education, and access to justice, concluding with an examination of how different social science disciplines intersect with NLR.

Incorporating global perspectives, the Research Handbook on Modern Legal Realism will be a key resource for scholars and students of legal theory and sociolegal studies. Illuminating the best approaches for combining social science considerations with expert perspectives on legal doctrines, it will also be of interest to practitioners and policy makers working in fields such as criminal and family law.