The Issue addresses the causes, conditions and consequences of immigration detention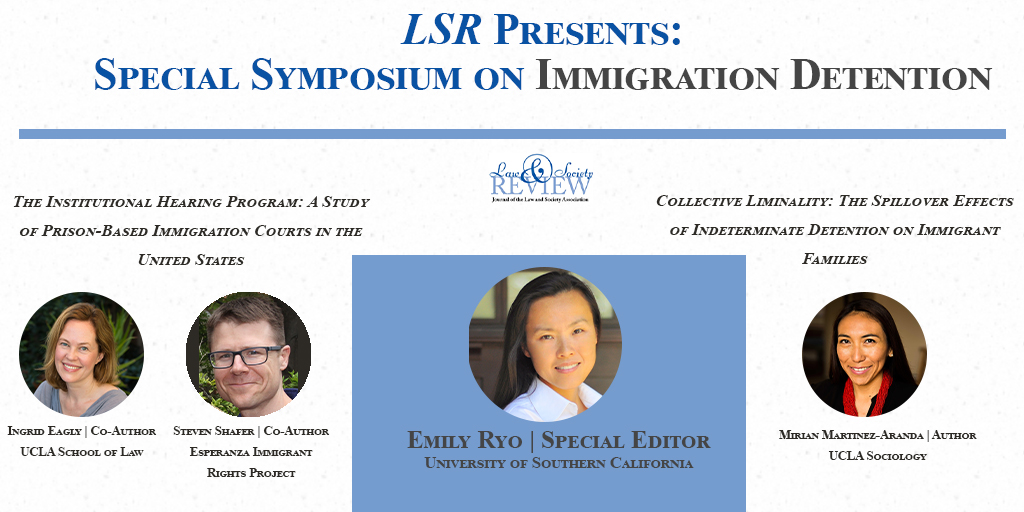 AMHERST, Mass. – The Law & Society Review will release a Special Symposium on Immigration Detention published in the journal's final issue of its 2020 volume, which will become available on November 28. Law and sociology professor Emily Ryo (University of Southern California Gould School of Law) served as special editor for this symposium, which features two innovative research articles that address the causes, conditions and consequences of immigration detention. The articles presented in the symposium further explore the social and political dynamics and legal mechanisms that have influenced the formation of modern immigration law practices.
"Studies on immigration detention are so critical for they can tell us about the legitimacy of our legal system," said Ryo. "I am thankful that I have been part of bringing this special issue to fruition, and I hope that it will inspire new ways of expanding public knowledge about how immigration detention operates and its impacts on our communities."
Ryo's research examines questions of citizenship and international migration, which raise new challenges and opportunities for democracy and diversity. Currently, Ryo focuses on immigration detention, criminal justice and the legal attitudes and noncompliance of noncitizens.
The article "The Institutional Hearing Program: A Study of Prison-Based Immigration Courts in the United States," by Ingrid Eagly (UCLA School of Law) and Steven Shafer (Esperanza Immigrant Rights Project), sheds light on the Institutional Hearing Program (IHP)—a 40-year-old prison-based immigration court system run by the United States Department of Justice. Prior to the study, little research has been conducted on this program, despite its role as a precursor to significant changes in immigration law. The study describes how carceral spaces have functioned simultaneously as sites of immigration enforcement and penal punishment.
Eagly and Shafer unravel the origins of the IHP, which immigration judges still use today to adjudicate deportation hearings inside the walls of prisons and jails. The article reveals how the IHP operates as a tool to expedite the deportation process in the United States, while limiting noncitizens of their access to justice. The IHP is responsible for such forms of deportation as stipulated removal, which relies on government lawyers to assist detainees in essentially deporting themselves, without ever stepping foot in court.
The IHP has further allowed prisons and jails to participate in supporting a segregated court system designed for noncitizens, often targeting specific nationalities. In doing so, proceedings can be completed in a single hearing. Representation by counsel within the IHP is dismal—between 1988 and 2019, only 10% of incarcerated noncitizens in IHP proceedings were represented by counsel at their initial case completion. The IHP data reveals that 93% of its participants were deported. Of the 226,400 deportations last year, 85% were of immigrants incarcerated in detention facilities. Many of these detained immigrants are those who are not a threat or danger to society. The findings in this study possess vital implications for understanding the relationship between immigration detention, racialized control of domestic migration and penal punishment.
While Eagly and Shafer's study focuses on the system and institution, Mirian Martinez-Aranda's article, "Collective Liminality: The Spillover Effects of Indeterminate Detention on Immigrant Families," delves into the material and emotional impact immigration detention has on detainees and their families facing prolonged detention without a finite release date. The author introduces the concept of collective liminality, which is the condition of heightened threat and uncertainty experienced by detainees and their families, while the detainee awaits either release or deportation. The concept inherently demonstrates how immigration detention functions as a critical tool of immigrant surveillance, punishment and exclusion.
Martinez-Aranda, a UCLA Sociology graduate student, argues that damage to families emerges when the looming threat of deportation becomes more intense and tangible at the moment a loved one is detained. She highlights the grim risks, realities and hardships detainees face such as prison time, economic harm and permanent separation from family. These collateral consequences lead to indefinite adversity for not only the immigrant detainees, but their families too.
LSR's Special Issue builds on the fundamental framework of sociolegal literature surrounding immigration, such as the extreme vulnerability of those detained. Ryo urges new research that focuses on ongoing contemporary concerns like the health and well-being of detained immigrants amidst a global pandemic. Given the lack of disinfection and social distancing in detention facilities, jails and prisons, where incarcerated immigrants are held, have become hotbeds for the spread of COVID-19. The U.S. Immigration and Customs Enforcement (ICE) had reported 7,055 confirmed coronavirus cases among immigration detainees by the beginning of November. Ryo also hopes that the Special Issue will inspire new research focus on other important issues relating to immigration detention, such as the treatment of migrant children and the privatization of immigration detention.
To view the full LSR Special Issue on Immigration Detention, visit the Wiley Online Library here at the end of the month when it becomes available.
###
Founded in 1964, the Law and Society Association (LSA) is a non-profit interdisciplinary scholarly organization committed to social scientific, interpretive and historical analyses of law across multiple social contexts.
The Law and Society Association publishes the Law & Society Review (LSR) in four issues per volume each year. Founded in 1966, LSR is recognized by sociolegal scholars worldwide as a leading journal in the field. LSR is a peer-reviewed publication for work that explores the relationship between society and the legal process.