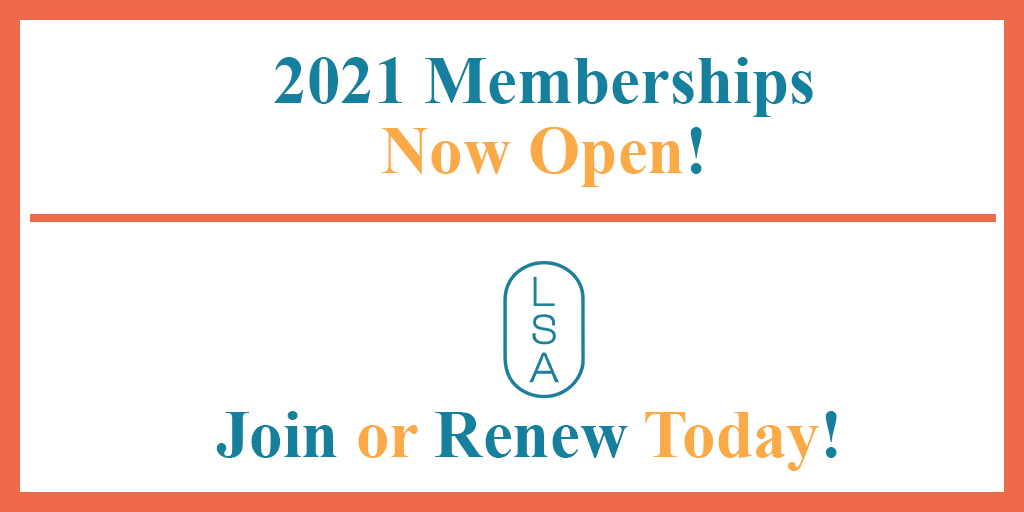 It's that time of year again! Law and Society Association memberships for 2021 are now available!
As the ongoing global pandemic continues to disrupt our lives, LSA remains committed to its core mission of supporting and nurturing a diverse and global law & society community. Your continued membership supports our work, and we hope you will renew your LSA membership today.
Membership Benefits
Your membership entitles you to all LSA benefits, including a discount on our Annual Meeting registration, access to award nominations, our new exclusive Career Center, LSATalk, an LSR subscription and much more.
Providing Support in Light of the Global Pandemic
We understand that many of you are facing difficult financial choices and increased uncertainty at work and home. In light of this, the LSA Trustees have agreed to keep dues at prior levels and to waive renewal dues for all students, special international members, and those in the lowest-income category that had an LSA membership in 2020. These members are most likely to be disproportionately affected by the ongoing pandemic. In addition, we have reduced membership dues for new student members who wish to join our community.
For those members who are willing, please consider sponsoring a member by donating to LSA's General Fund at renewal. Your generous support will help offset the cost of these free memberships and support the continued work of LSA.
To renew, please login to your LSA profile and follow the link below to renew your membership and avoid any uninterrupted LSA member services.
Password Recovery Link: https://lawandsociety.site-ym.com/general/email_pass.asp
Go Here to Renew: https://lawandsociety.site-ym.com/members/manage_profile.asp
To join or renew, please login to the member portal (https://lawandsociety.site-ym.com/) with the credentials above. If you have forgotten your password, please click on the recovery link. If you did not receive an email to reset your password, it is likely due to your profile having a different email address. If you cannot remember which address you have on file, please send us an email at lsa@lawandsociety and we will be happy to help.
Renewal Link: https://lawandsociety.site-ym.com/members/manage_profile.asp
Select *** Renew Your Membership Now *** at the top of the page.
Please update your member profile and save changes before completing your transaction.
When you reach the Dues page, please select a regular, student, or special international membership option at the top of the page under "Membership Information" on the drop-down menu. If you see a $0 dues amount at the bottom of the page, this means that you may have selected a "non-member" option by accident.
If you require any assistance, please email us at lsa@lawandsociety.org.