Get to Know Gregory Shaffer!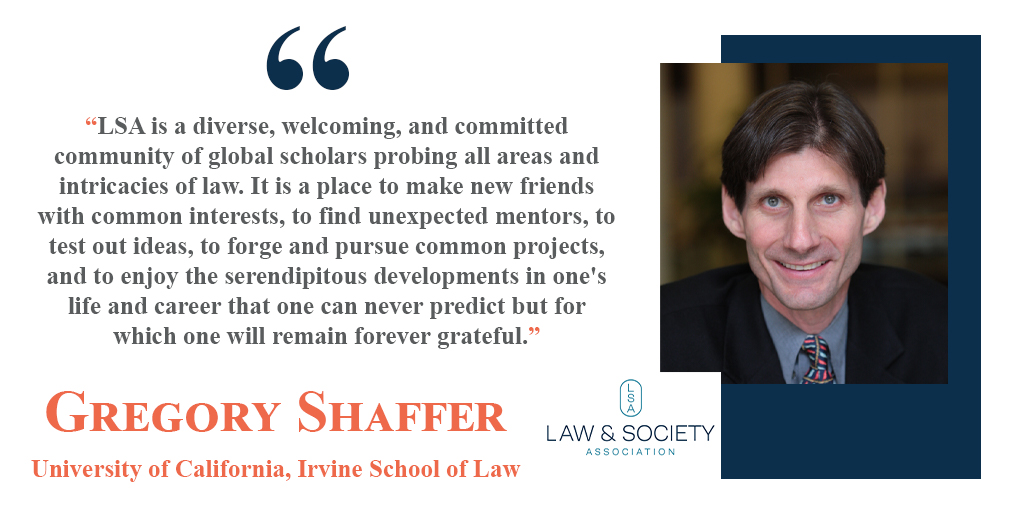 Institution: University of California, Irvine | School of Law
Number of years as LSA member: 23
Number of LSA Meetings Attended: 23
LSA Collaborative Research Network (CRN) Affiliation:
LSA Governance Position(s) and Committees:
Program Committee Chair, 2013 Annual Meeting in Boston
Program Committee (Berlin 2007)
Program Committee (Toronto 2018)
2nd Half Century Project Committee (2014-2015)
Chair of Grants Committee (early 2000s)
Multiple prize committees
International Committee (2018-)
Areas of Research:
Law and Globalization
International Economic Law
Favorite Topics to Teach or Research:
Law and Globalization
Transnational Legal Theory
International Trade Law
New Legal Realism
Unique Facts:
Professor Shaffer is currently the President-Elect for the American Society of International Law (ASIL). He also serves on the Founding Executive Council for the Society of International Economic Law (SIEL).
Professor Shaffer is widley published in academic law journals and has written nine books and over 100 articles and book chapters on cross-disciplinary topics such as international trade law and law and globalization. However, Professor Shaffer also shares a passion for creative writing. A graduate of Dartmouth College where he studied English & Creative Writing, he tries to read at least one poem a day and has even published a chapbook. 
Notable Awards:
New Book:
Emerging Powers and the World Trading System: The Past and Future of International Economic Law (Cambridge University Press 2021)
This book explains the rise of China, India, and Brazil in the international trading system and the implications for trade law.
Other Top Books:
Professor Shaffer's publications include nine books and over one hundred articles and book chapters.
Transnational Legal Orders (Cambridge University Press, 2015) | (Co-Authored by Terence Halliday)
"Varieties of New Legal Realism: Can a New World Order Spur a New Scholarly Agenda," 95 Cornell Law Review 61-138 (2009) | (Co-Authored by Victoria Nourse).
Media Appearances: 
Professor Shaffer has been featured in numerous digital and print mass media outlets. Please visit his UCI bio to view a complete list of media appearances.
Listed below are some of Professor Shaffer's media appearances:
Learn more about Professor Shaffer, his media appearances, awards and publications by viewing his bio, here.