Get to Know Rebecca Sandefur!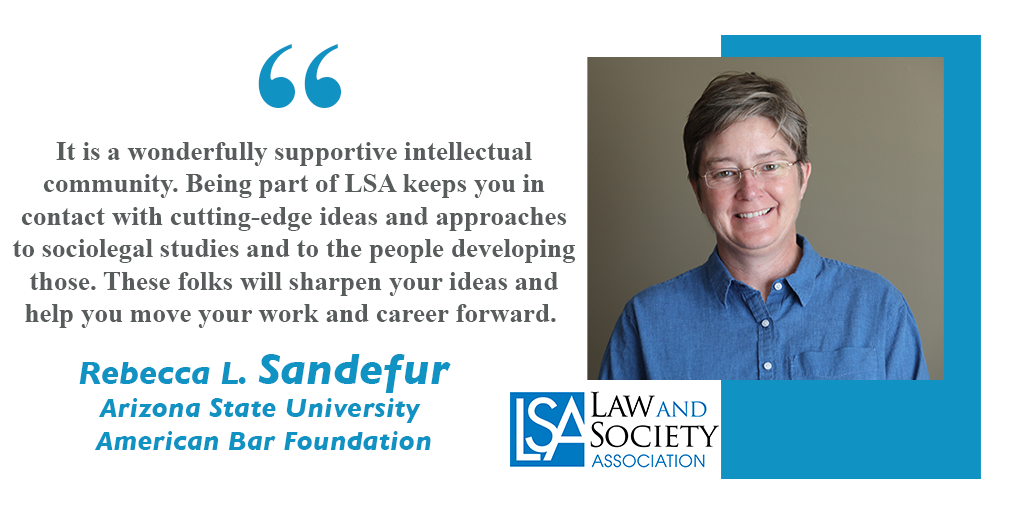 Institution(s):
Arizona Sate University
American Bar Foundation
Number of years as LSA member: 20
Collaborative Research Networks: Co-organizer – CRN 39: Everyday Legality
LSA Committees and governance positions: 
Law & Society Review Editor (Current)
LSA Annual Meeting Program Committee Co-Chair
LSA Board of Trustees (2x)
Professional Development Committee
Publications Committee
Ad Hoc Governance Review Committee
Ad Hoc Member Survey Committee
Article Prize Committee
Nominations Committee
Areas of Research:
Access to Civil Justice
Civil Justice
Legal Professions
Civil Legal Services
Inequality
Major Award: MacArthur Fellow; Champion of Justice
Additional Hobbies: Hiking, camping and cooking
Unique Fact: Becky cooks a mean smoked goose breast as well as a "very nice" cassoulet
Top 3 Articles or Books Published: 
2018 Rebecca L. Sandefur. "Access to What?" Daedalus: The Journal of the American Academy of Arts and Sciences 148(1):49-55.

2016. Rebecca L. Sandefur. "What We Know and Need to Know about the Legal Needs of the Public." University of South Carolina Law Review 67:443-460.

2015 Rebecca L. Sandefur. "Elements of Professional Expertise: Understanding Relational and Substantive Expertise through Lawyers' Impact." American Sociological Review 80(5):909-933
Media Appearance(s): Slate – Lawyers: Who Needs 'Em?