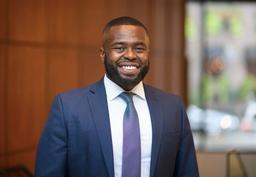 2023 BOARD OF TRUSTEES
Shaun Ossei-Owusu
Presidential Assistant Professor of Law
Shaun Ossei-Owusu is an emerging interdisciplinary legal scholar with expertise in legal history, criminal law and procedure, civil rights, and the legal profession. His work sits at the intersection of law, history, and sociology, with a focus on how governments meet their legal obligations to provide services and benefits to poor people and racial minorities. He also works on stratification in the legal profession.
He has received awards from social science and humanities organizations such as the American Bar Foundation, American Society for Criminology, American Society for Legal History, The Huntington Library, and the National Endowment for the Humanities, and National Science Foundation. His work has been published or is forthcoming in the University of Pennsylvania Law Review, Virginia Law Review, Michigan Law Review, UCLA Law Review, Southern California Law Review, Wisconsin Law Review, and the American Journal of Law & Medicine, among other outlets. His public writing has appeared in the American Prospect, Boston Review, Jacobin, Public Books, and Salon. His book project, The People's Champ: Legal Aid from Slavery to Mass Incarceration, is under contract with Harvard University Press. 
Before joining the Penn Law faculty, he was an Academic Fellow and a Kellis E. Parker Teaching Fellow at Columbia Law School. He previously practiced litigation and healthcare enforcement law at Sidley Austin LLP in Washington, D.C., and worked as a Loaned Associate focusing on public benefits appeals with the Barbara McDowell Appellate Advocacy Project at the Legal Aid Society of the District of Columbia.
Twitter: @ProfOsseiOwusu