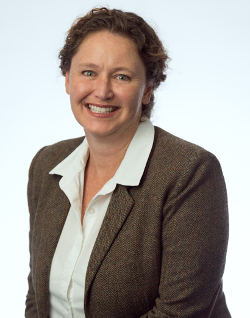 2022 BOARD OF TRUSTEES | COORDINATOR OF GLOBAL ACTIVITIES
Dee Smythe
Professor of Public Law and Interim NRF Chair in Security and Justice
Dee Smythe is a Professor of Public Law and Interim NRF Chair in Security and Justice in the Law Faculty at the University of Cape Town.
From 2006 to 2012 she was Director of the Law, Race and Gender Unit, and from 2013-2015 the founding Director of the Centre for Law and Society. Between 2016-2018 she served as Deputy Dean for Research in the UCT Law Faculty. Prior to re-joining the Law Faculty in 2009, Dee was Principal Researcher at the Gender, Health and Justice Research Unit in UCT's Faculty of Health Sciences. Between 2009-2011, Dee co-convened the Stanford Law School International Human Rights Law Clinic with Kathleen Kelly Janus.
Dee's research spans a range of areas at the intersection of law, policy, and social justice. Her research is particularly concerned with understanding the operation of transitioning legal systems, ranging from legal education, through legal practice, and the operation of the police, prosecution and criminal courts, to vernacular dispute management mechanisms.
Dee has also written on HIV/AIDS, crime prevention, and police transformation, and is an expert on state responses to gender-based violence, with a specific focus on sexual offences. Her books include Rape Unresolved: Policing Sexual Offences in South Africa, Should we consent? The politics of rape law reform in South Africa(ed. with Lillian Artz), and the Sexual Offences Commentary (ed. with Bronwyn Pithey). Other edited volumes include, In Search of Equality: Women, Law & Society in Africa (with Steffi Rohrs) and Marriage, Land and Custom: Essays on Law and Social Change in South Africa (with Aninka Claassens). Dee's current research explores the regulation of hurt, harm and hate in written and spoken words, the intersections of administrative and criminal law in institutional responses to sexual harassment/violence; and the contours African law and society scholarship.
Dee was a Fulbright Fellow at Stanford Law School, where she received her masters and doctoral degrees. In 2009 she was awarded the UCT College of Fellows Young Researcher Award for outstanding scholarly work by a young academic. In the same year the work of the Gender, Health and Justice Research Unit was recognised with UCT's inaugural Distinguished Social Responsiveness Award. In 2011 the Law, Race and Gender Research Unit's Rural Women's Action Research Project also received the UCT Social Responsiveness Award. Dee has convened the African Network of Constitutional Lawyers' focus group on Women, Equality and Constitutionalism and served for many years as Deputy Chairperson of the Board of Rape Crisis.
Dee convenes the interdisciplinary postgraduate LLM/MPhil Programme in Criminology, Law and Society, on which she teaches a core course on Law and Society in Africa. She also teaches on gender, research skills, and criminal procedure in the LLB and supervises masters and doctoral candidates in the area of law and society, with a specific focus and passion for Africa.
Twitter: @dee_smythe