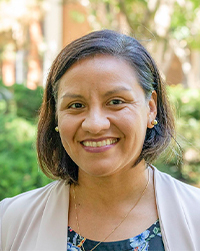 2024 BOARD OF TRUSTEES
Amada Armenta
Associate Professor of Urban Planning and Sociology
Amada Armenta is Associate Professor of Urban Planning and Sociology at UCLA. Her research examines the connections between the immigration enforcement system and the criminal justice system, and the implications of this connection for immigrants, bureaucracies, and cities.
Her book, "Protect Serve and Deport: The Rise of Policing as Immigration Enforcement" (University of California Press, 2017), was recognized as a C. Wright Mills Book Award Finalist (2017), Law and Society Association Herbert Jacob Book Prize Honorable Mention (2018), American Sociological Association Latina/o Sociology Distinguished Contribution to Research Book Award co-winner (2019), and American Sociological Association Sociology of Law Section's Distinguished Book Award (2019).
Currently, she is working on her second book project, an examination of the legal attitudes of unauthorized Mexican immigrants in Philadelphia.